User Workflow-Focused Workstation Solutions for BACnet Systems

Log In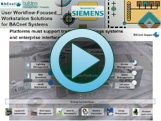 With BACnet applications now prevalent in many areas beyond a building's HVAC system, the ability to implement cross-discipline interoperability is attainable in a wide variety of facility applications, including lighting, fire/life safety, security and more.

Attend this webcast to learn how BACnet solutions can be utilized to facilitate simplified workstations and manage all building systems based on standard and open solutions.

Learning objectives:
Understand the array of BACnet applications now available for many building systems

Learn about the workflow-focused workstation approach to building automation

Review potential savings through integrated systems and standardization of user interface and workflow solutions, which reduce overall system costs and leverage existing networks and solutions.