Sustainable Roofs for Long-Term Performance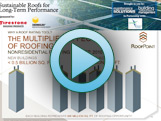 This webcast will provide an overview of Center for Environmental Innovation in Roofing's (CEIR) RoofPoint sustainable roof system guideline – a non-proprietary guide to validate the roof system selection process, and assist in selecting a roofing system that aligns with an organization's sustainability criteria.
Attend this webcast for real-world examples of how this program that can be integrated into almost any roofing project. Learn how you can access details on more than 100 roofing projects that have already been certified and recognized.