Optimizing HVAC Performance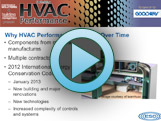 About the Webcast:
The fact that HVAC performance declines over time in most facilities is not news to most facility managers. Time, changes in occupancy and varying setpoint adjustments all impact efficiency, and contribute to a system that performs significantly differently than its original design and operational expectations – even among fairly new HVAC installations.
What may be surprising, however, are the simple tasks you can undertake in order to identify these deficiencies and consequently enhance performance. By attending this webcast, you will gain a greater understanding of how to gauge your HVAC system's current level of performance, and discover what measures you can take to obtain a higher level of efficiency, operation and performance.
Learning objectives:
Understand why and how HVAC performance gets worse over time
Learn how audits and commissioning help optimize HVAC system efficiency
Understand the role of controls and building automation functions in creating a seamless approach to HVAC operation
Review the leading measures to optimize HVAC efficiency