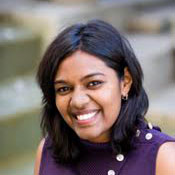 Thulasi Narayan
LEED AP, Manager
Paladino and Company
Thulasi Narayan is a manager with Paladino and Company. Thulasi works with clients and project teams to identify sustainability strategies with the best return on investment, utilizing her expertise in building design and performance optimization to enable knowledge-based decision making. Thulasi conducts energy, natural ventilation, thermal and daylight modeling using a number of simulation tools such as IES, eQUEST, Radiance and RadTherm. She also performs feasibility and performance studies on innovative HVAC and mechanical systems, green roofs, rainwater harvesting and a host of other green building strategies, along with detailed cost of ownership analysis.
Thulasi has built several user-friendly Excel-based tools that allow owners to select and compare energy conservation measures and assess payback based on their capex budgets. She also creates digital tools specifically focused on sales for green building product manufacturers, enabling sales staff to compare carbon and financial performance metrics to guide product selection and demonstrate performance against competitive products.

Dev DuRuz
Senior Consultant
Paladino and Company
Dev DuRuz is a senior consultant for Paladino and Company, an internationally recognized green building and sustainability consulting firm. With over 30 years of experience, Dev is a seasoned benchmarking, commissioning, building automation, temperature controls, M&V, analytics and auditing expert, and provides firm-wide leadership over all commissioning activities.
Dev oversees the continuous improvement and standardization of best practices for commissioning and M&V across the company, and provides ongoing mentorship to Paladino's teams of technical specialists. Ultimately, Dev's role is to ensure the firm's clients are provided with rigorous testing procedures and best-in-class knowledge to meet their project's performance requirements. His experience also includes end user testing to help his clients operate their buildings for optimum performance and maximum benefits.
---
Moderated by:
Wendy Dietzler, Vice President, Education & Conferencing