Emerging Metrics for Data Centers

Log In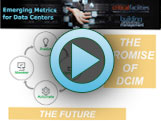 Two trends in data center management are driving a reassessment of traditional data center metrics. One is the emphasis on productive use of resources such as IT capacity, power and water and the other is consolidated management of IT and facility assets through DCIM.

Register for this webcast and discover critical data center measurement trends through an overview of the structure and application of current efficiency metrics like DCiE, PUE, WUE and emerging metrics like FVER (Fixed to Variable Energy Ratio). You will get a framework to help you visualize the relationships between resources, assets, and IT productivity in your organization. You will also learn how to best apply industry metrics to document and track outcomes.

You will get:
A deep understanding of the nature of work and resource consumption in IT and facility systems, and the interrelationships between the two

A look at the structure and application of current industry metrics such as DCiE, PUE, WUE, CUE, FVER

Knowledge to understand the difference between equipment, system and operational efficiencies and metrics and how these may be documented through DCIM
Insight on the process for developing meaningful metrics for your organization using industry guidelines.