Complying with the Federal Buildings Personnel Training Act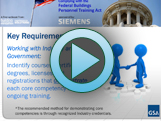 Complying with the


Federal Buildings
Personnel
Training Act

Presented by
John Simpson, P.E., LEED AP,
Program Manager - Federal Buildings
Training Act, Office of Federal
High-Performance Green
Buildings, GSA
Wednesday, June 27 | 11 AM ET
Attendance is free,
but space is limited.

Register now.
Can't attend?
This exclusive webcast will be available on-demand after July 2.

Note: Interactive question & answer session and IACET-certification eligibility only available to participants of live webcast.

Trade Press Media Group is authorized by IACET to offer 0.1 CEUs for this program.
---
PRESENTED BY
John Simpson,
P.E., LEED AP, Program
Manager - Federal
Buildings Training Act
Office of Federal
High-Performance Green Buildings, GSA



Read More


John is currently the Program Manager for the government-wide implementation of Federal Buildings Personnel Training Act 2010. The goal of the FBPTA is to maximize the performance of Federal buildings while assuring that they retain their value throughout their lifecycles. He previously lead several other OFHPGB initiatives: Zero-Net-Energy/Zero-Environmental-Footprint; Update of the GSA Water Guide; Water-Energy Nexus; Geo thermal Acceleration Plan; A/E Procurement Training, Green Retrofit/O&M; and Sustainable Consulting Contract Vehicle. John is a Registered Professional Engineer and a LEED Accredited Professional. He holds a Masters Degree from Stanford University and a Bachelors Degree from the University of South Carolina – both in Civil and Environmental Engineering.

Signed into law last year, the 2010 Federal Buildings Personnel Training Act (FBPTA) is designed to ensure that Federal buildings and property are managed with an emphasis on energy-efficiency and sustainability. Now the General Services Administration (GSA) is identifying core competencies, which all Federal buildings personnel must possess to operate and manage government facilities.

So what does that mean for Federal facility professionals and their contractors? Find out in this Webcast, presented by John Simpson, GSA Program Manager for the FBPTA . The presentation will spell out the FBPTA requirements and identify the core competencies now required under the Act.


During this Webcast, you will learn how to:
Understand the goals, requirements and time frames of the FBPTA
Learn what the Act means to government employees and contracted employees
Review the road ahead for the FBPTA
DATE: Wednesday, June 27
TIME: 11 AM ET
PRICE: Free
PRESENTER:
John Simpson, P.E., LEED AP, Program Manager - Federal Buildings Training Act, Office of Federal High-Performance Green Buildings, GSA
CEU: 0.1
LENGTH: 60 Minutes