Complying with the Federal Buildings Personnel Training Act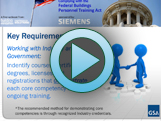 Signed into law last year, the 2010 Federal Buildings Personnel Training Act (FBPTA) is designed to ensure that Federal buildings and property are managed with an emphasis on energy-efficiency and sustainability. Now the General Services Administration (GSA) is identifying core competencies, which all Federal buildings personnel must possess to operate and manage government facilities.

So what does that mean for Federal facility professionals and their contractors? Find out in this Webcast, presented by John Simpson, GSA Program Manager for the FBPTA . The presentation will spell out the FBPTA requirements and identify the core competencies now required under the Act.


During this Webcast, you will learn how to:
Understand the goals, requirements and time frames of the FBPTA
Learn what the Act means to government employees and contracted employees
Review the road ahead for the FBPTA