Building Control Systems: Improving the Performance of Your Control Systems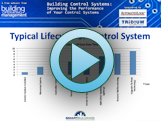 Properly functioning control systems are critical to building performance. If your facility management department gets excessive occupant complaints related to comfort, or if the building system is not running optimally and wasting energy, you have serious issues. With aging legacy controls, you may find that parts and service are difficult to find and/or the advanced capabilities and software applications in the marketplace now aren't compatible.

This webcast gives you an in-depth look at the role of control systems in building management, and at the hardware, software and operator issues with control systems. The presentation depicts typical control problems, as well as the role of controls in energy management. In addition, the session will discuss the latest trends in building management systems, including fault detection and diagnostics, demand response and full system integration.