The Economics of Energy Upgrades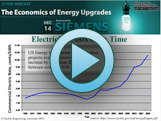 For most facility executives it's no longer a question of whether to improve energy efficiency; it's a matter of how best to achieve that goal.

Find how it's all possible when you attend the FREE Webcast "The Economics of Energy Upgrades" on Tuesday, December 14, at 1 p.m.

The 60-minute event will introduce you to successful strategies for planning and funding energy efficiency upgrades in your facility, while addressing the crucial economic issues that can affect the process. You'll also learn ways to gain top-management support for the upgrades.

Webcast topics include:

* Making the case for energy-upgrade funding
* The role of rebates and incentives
* Payback criteria considerations
* Using low- and no-cost measures
* The importance of measurement and verification of energy savings

Your Webcast registration includes complimentary access to the Siemens white paper "The Economics of Energy Upgrades," which includes exclusive survey data from more than 1,000 facility executives on key energy issues.