How A Controls Upgrade Can Improve Efficiency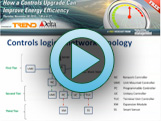 Regardless of building type, energy use accounts for a significant portion of operating costs. Part of the challenge in reducing costs lies in improving equipment performance and reducing energy consumption without diminishing comfort, safety or security. Meeting that challenge has illustrated the need for increased system automation and system integration.

In this 75-minute Webcast, moderated by Building Operating Management editor Lacey Muszynski, you will learn the keys to energy cost savings by taking an integrated approach to a building automation system's design. Presented by Marty Lunkes and Dan Michaud of Environmental Systems Design, Inc., this Webcast will provide a roadmap for selecting and specifying automated building controls for optimum energy efficiency.

The Webcast will include details on:
* Evaluating the existing controls system: what functions does your system have?
* How much work has to be done to take advantage of new controls?
* Making the case for upgrades to top management
* Planning and managing the upgrade: the FM's role in specification, implementation and training
* Includes special Q & A Session - Get your controls questions answered by industry experts
* Trends on devices, connectivity and software. What's happening today - and what the future will bring.