4

FM quick reads on cmms

---
1. Tracking Sustainability with a CMMS
This is Chris Matt, Managing Editor — Print & E-Media with Maintenance Solutions magazine. Today's tip is using a computerized maintenance management system, or CMMS, to improve sustainability.

One critical factor on the path to sustainability is maximizing the many benefits of a computerized maintenance management system (CMMS). When fully utilized, a CMMS can help guide departments toward the path to greater energy efficiency and sustainability.

Aside from proactively managing energy use, a fully functional CMMS can shed more light on an organization's energy situation, help organize data more effectively and give managers a useful tool to help develop energy-saving strategies. Key features required when specifying a new or upgraded CMMS to improve sustainability include an equipment module to track all assets, including facilities, in an organization.

In addition to standard modules for PM, work orders, inventory, and purchasing, the system should be able to set priorities and levels of criticality for each piece of equipment.

The CMMS also should give managers and system users the ability to:
• schedule inspections of energy-using equipment and pollution-control monitors to make sure they work efficiently
• track assets for proper disposal
• collect and store historical energy-use data so managers can identify problem areas related to energy waste, such as leaks
• establish an effective energy-reduction plan
• provide tracking of energy use with user-defined criteria
• correlate those criteria to the amount of energy used
• provide details of the amount of energy each asset, location, and building uses
• integrate with hand-held devices, such as smart phones and PDAs, to eliminate paper flow.
2

. CMMS Upgrades: Lessons Learned

I'm Dan Hounsell, editor of Maintenance Solutions magazine. Today's topic is, maintenance software upgrades.

The process of specifying, installing and taking control of a new computerized maintenance management system (CMMS) is never without its challenges. But when the maintenance and engineering department in question is a 402-person operation that is responsible for more than 3.4 million square feet of space in a campus full of health care facilities, the many challenges involved in the project are greatly magnified.

The facilities operations department at Texas Children's Hospital in Houston undertook such a project in 2009, and the new system went into operation in June 2010.

The department's successful implementation of its CMMS occurred in large part because the team had a clear idea of the process going in, but it also reinforced several key lessons, says Bert Gumeringer, the hospital's director of facilities operations and security services. The lessons include:

• Ensure the project's scope of work is clear for both the vendor and the hospital's procurement executives.

• Define all reports the system must provide, and include these requirements in the scope of work.

• Clearly define work flows and test procedures for verification of the software's functionality.

• Require the vendor to use only one project manager during the implementation. Do not allow the vendor to change managers.

Finally, Gumeringer advises managers to avoid implementing a CMMS because of an arbitrary project date set early in the process. Instead, implement the system when all milestones are complete, and delay the implementation if necessary. He advises managers to view this phase of the process as a collaboration between facilities management and the information systems department, or IS.

Says Gumeringer, "IS often is moving toward a project completion date, and plant maintenance wants the implementation to be 100 percent complete when it's turned over," In Gumeringer's case, the department had to push back against pressure to accept the new CMMS because it was not fully implemented.

"We ended up being in conflict," he says. "We had to have the courage to push back, to not accept the system until it was complete. It required courage and effort on our part."
3

. Inventory: Base Decisions on Real-Life Data

This is Chris Matt, Managing Editor of Print & E-Media with Maintenance Solutions magazine. Today's tip is inventory-management strategies

Managers will have a greater chance of successfully managing inventory if they can minimize decisions based on emotion and make more decisions based on real-life data. Much of the data they need exists in the database for the computerized maintenance management system, or CMMS, and it can provide answers to several questions:

What is the right part? Managers can answer this question by looking at the equipment bill of materials, the original equipment manufacturer list, nameplate information, work-order history, or the contractor-work history. They can document all of this information in the CMMS item-master registry to ensure the department procures the correct materials.

What is the right quantity or stocking level? A number of modifiers determine the correct stocking levels. Most organizations use minimum and maximum levels or calculate economic order quantities. These figures should relate to historical use, consumption rate and lead times.

What is the right time? Departments that operate in a reactive-maintenance mode tend to have high levels of inventory because of this firefighting mentality. Moving toward a planned work environment reduces the chances of stockouts, and it allows managers to bring materials in at the lowest cost of acquisition.

Finally, what is the right cost? The supply chain can be the heart of the maintenance organization, or it can be the heart attack. The way departments manage this process is a key component of their success. The best departments have 25 percent of their total inventory on some type of stocking program.


4

. CMMS: Five Commonly Underused Functions

This is Chris Matt, Managing Editor of Print & E-Media, with Maintenance Solutions magazine. Today's tip is identifying the most underused functions of a CMMS.

Computerized maintenance management systems, or CMMS, are among the most powerful tools managers have for achieving maintenance and engineering goals. But a handful of commonly underused CMMS functions exist, and managers should keep them in mind during the specification process and after the CMMS is operating.

First, a Web-request system. Many organizations do not push customers to use these modules because they prefer to take work-order requests over the phone and perform data entry manually. But allowing customers to make requests via the Web creates real-time savings and status updates, and it gives customers the ability to track their requests and view costs any time.

Preventive maintenance, or PM. Many CMMS have a PM module, but few organizations use it to perform predictive-maintenance tasks, including infrared thermography, leak detection, and vibration and oil analysis. Many organizations use preventive and predictive interchangeably, but they are two different types of tasks the same PM module can generate.

Warehouse and inventory control. This feature allows: documentation with purchase orders; receipt of parts into warehouses; charging of parts to work orders; and selling parts to other departments via sales orders. The warehouse and inventory control module is even more useful when combined with the PM module.

Timekeeping. Most technicians punch a time clock, but many managers do not break down that time by the hours and minutes technicians spend on specific jobs. Using the timekeeping function helps managers better understand the way technicians use their time. The number of hours on a work order is a major element in the cost of a job, so linking work-order time to the actual available hours in a workday makes sense.

Finally, human resources. These modules track everything from managing position-control numbers to promotions and certifications. Managers also can use this module to monitor charge rates, which should include benefit and overhead costs.
RELATED CONTENT:
cmms , maintenance management software , sustainability , green , energy efficiency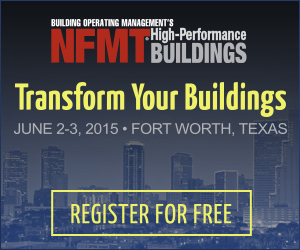 ---
QUICK Sign-up - Membership Includes:
New Content and Magazine Article Updates
Educational Webcast Alerts
Building Products/Technology Notices
Complete Library of Reports, Webcasts, Salary and Exclusive Member Content


All fields are required.


click here for more member info.

---
---
---