4

FM quick reads on software

---
1. CMMS: The Role of Custom-Report Generators
This is Chris Matt, Managing Editor of Print & E-Media with Maintenance Solutions magazine. Today's tip is the role of custom-report generators in computerized maintenance management systems, or CMMS.

Once specifiers are certain a new CMMS will ensure proper data entry and timeliness, the next step is making sure it allows managers to analyze the data to make continuous improvements.

Reporting is probably the most important functionality in any CMMS. Companies spend a great deal of money to ensure they can get appropriate information to consider when making meaningful decisions. The ultimate goal is to see the investment in a CMMS return in the form of operational savings, such as reduced labor costs.

An important reporting feature is the ability to quickly and easily generate custom reports. Too often, managers find they cannot get the exact data when they want it and in the format they need it, and they find they need reports the CMMS was not set up to produce initially. But as managers use the system, they realize the type of information they need, and custom reports become an important function.

Some CMMS lack the functionality to produce custom reports, while others require a third party's complex software and programming knowledge. An effective CMMS features a custom-report generator that relatively inexperienced CMMS users can employ to easily write custom reports.
2

. Maintenance Management Software

I'm Dan Hounsell, editor of Maintenance Solutions magazine. Today's topic is maintenance management software:
One essential step in preparing to upgrade a computerized maintenance management system (CMMS) is to determine the specific needs of the organization, its facilities and the maintenance department. To determine these needs, as well as how much up-front time and money the upgrade will require, maintenance managers can consider the answers to these questions in the following areas:
* First, assessing strengths and weaknesses. What are the organization's information technology capabilities? What is the computer literacy of the maintenance staff? Can a manager add employees or change the staff's configuration? Is the staff ready and willing to take a different approach to maintenance and repair operations? Does management believe in the benefits of a CMMS?
* Next, determining the status of maintenance. Is the maintenance department properly tracking work being done in the facility? Is there a preventive maintenance plan in effect? If so, how is it monitored?
* Finally, evaluating department operations. Is the department staffed properly? If an organization is implementing a CMMS, chances are it has deferred maintenance due to low staffing levels, a situation that will become a major problem. Is the department prepared to deal with this workload? Does it have the time and money to allocate to this project? This question might be the most important. The successful implementation of a CMMS requires a top-down commitment from management and the support of the entire organization.
Managers need to define the goals of both the department and the organization well before purchase and installation. By doing so, managers are more clearly defining the conditions of success for the upgraded CMMS.

3

. Getting the Most from a CMMS

I'm Dan Hounsell, editor of Maintenance Solutions magazine. Today's topic is, maximizing a CMMS.
The process of maximizing the power of a computerized maintenance management system involves identifying and focusing on the software's most important modules and functions and ensuring technicians in the field use them as effectively as possible. The process often starts with a return to the original goals of a CMMS and the software features that addressed those goals.
Says Susan Deane, CMMS database administrator with the facilities management department at Chapman University in Orange, Calif., "We go back to ground zero, like we're at the beginning of the process again." The department is responsible for the campus's 124 buildings.
The work-order module generally receives the most attention during specification, so it tops the list of priority modules when departments need to refocus.
Rick Storlie, director of administrative services with the University of Nevada, Las Vegas, stresses this module's central role in gathering accurate data for the department, which maintains 120 buildings with about 4.5 million square feet of space.
"We're firm believers that technicians ultimately run a maintenance organization because their work out in the field is the critical component to success or failure," Storlie says. "It's up to managers to train them how to submit proper closing comments, readings and other feedback so it can be quantified into meaningful data."
By reviewing how well front-line technicians use these modules, managers can reinforce the reasons the department originally invested in a CMMS. The process can help the entire department refocus its approach to using a CMMS, which tends to narrow over time, from meeting big-picture goals to targeting short-term needs.

4

. Maintenance Management Software

I'm Dan Hounsell, editor of Maintenance Solutions magazine. Today's topic is, maintenance management software:
The word maintenance too often carries negative connotations. In an effort to recast maintenance as a positive activity, it is important for managers to begin recasting their departments as profit centers, instead of a cost centers. A cost-centered approach is concerned strictly with adhering to the budget and decreasing expenses as much as possible. In contrast, under a profit-centered model, an organization can allocate investment and operating costs to improve efficiency.
Not surprisingly, informal surveys conducted at numerous seminars on CMMS reveal most companies — more than 90 percent — operate their maintenance departments as cost centers.
A CMMS can help managers assure the high quality of both the equipment condition and its performance. So a CMMS is not just a means of controlling maintenance. It is a primary tool for improving maintenance productivity. Key CMMS functions include: generating, planning, and reporting work orders; developing a traceable equipment history; and recording parts transactions.
Managers can deliver a number of benefits through the efficient use of a CMMS. Some benefits include increased labor productivity, increased equipment availability and performance, and longer equipment life.
Of these benefits, one of the most significant is increased labor productivity. If a CMMS provides technicians with a planned job, the procedures, and needed parts and tools, they should be able to work without delays or interruptions. They also should be able work more safely, since job plans would describe all of the required safety procedures.
Among the additional, tangible benefits of a CMMS include: reduced overtime; less reliance on contractors; reduced maintenance backlog; reduced cost per repair; improved morale; better service; less paperwork; and reduced follow-up required by supervisors.

many cases, touchless plumbing fixtures satisfy ADA design requirements.

RELATED CONTENT:
software , maintenance management software , cmms , maintenance and operations , data management , data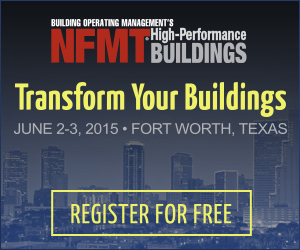 ---
QUICK Sign-up - Membership Includes:
New Content and Magazine Article Updates
Educational Webcast Alerts
Building Products/Technology Notices
Complete Library of Reports, Webcasts, Salary and Exclusive Member Content


All fields are required.


click here for more member info.

---
---
---