1/8/2013
<< Back to Facilities Management Press Releases Home
An Engineering Challenge Creates A New Way For Warehouses To Communicate

Logistics, long-range barcode scanners, and a sophisticated VoIP system improve warehouse accuracy and productivity.

The world of manufacturing, no matter the product, is much more complex then most of us realize. But those companies with the foresight to find innovative ways to operate are the true leaders. Sometimes it is merely a matter of analyzing your current methods, pinpointing the issues, and finding solutions. But other times it requires thinking beyond the status quo.

For example, recently a major food product manufacturer needed to solve a logistics puzzle. Their 1.2 million square foot plant used a warehouse management system to direct the hundreds of forklifts that scan and move bulk palettes, large barrels, and such. The forklift operators need to know what to pick up and where to move it within the many different regions of the facility. They use long-range barcode scanners to verify that they are picking the right product as directed. These scanners are connected to vehicle mount computers on the forklifts.

In addition to scanning, the vehicle mount computers are used to give personnel daily task direction and communicate with other team members, departments, as well as management. The system they use is Motorola's Team Express Voice Solution and Team Badge. Typically this system is used with push-to-talk (PTT) devices and headsets. However, this particular manufacturing facility had very specific concerns.

First and foremost among their priorities was safety. Forklift operators need to be able to hear what is going around them as they drive massive equipment carrying extremely heavy loads. Headsets blocked out potentially important peripheral sounds.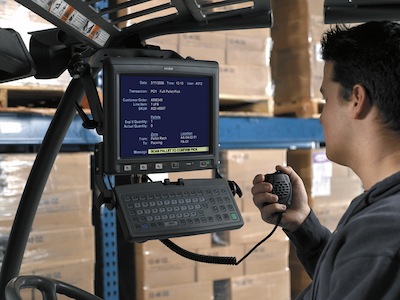 However, they also need to be able to hear management direction and commands over the Team Express communications system. This presented another problem—how can you hear directions in an extremely noisy environment? As the operators are driving the forklifts they needed a speaker that was loud and clear enough to be heard over the din.

Enter DecisionPoint Systems, integrators of mobile computer, wireless, and barcode scanning systems.

"Our customers make up a wide variety of everything from manufacturing to health care, retail, to field service people who use barcode and RFID to process data on a daily basis," said Bill Butler, Account Manager at DecisionPoint. "In this case, we were engaged by third party logistics company who was conducting business with a major food manufacturer."

The DecisionPoint team installed Motorola Solutions VC5090 vehicle mount computers on the forklifts with the Team Express voice solution. The Team Express client is a wireless voice over ethernet connection, or wireless voice over IP (VoIP). Unlike a typical walkie-talkie where there is an independent radio channel that can be compromised by interference and traffic, the wireless VoIP is encrypted. It uses the same conduit as the barcode data and the host computer, sending information back to the recipients via VoIP. Users can communicate with everyone on a selected channel, an isolated group, or have one on one conversations.

When it came to the mechanism that would communicate between devices and Motorola's Team Badge, DecisionPoint stepped way out of the box. Instead of a standard headset or microphone, DecisionPoint brought in a public safety grade PTT speaker microphone similar to what law enforcement or fire would use. But suddenly the project entered new territory. Due to the atypical VoIP system and advanced computer, the Mic needed a new way to connect.

"During my research I came across Pryme Radio Products. When we contacted them, I found they knew everything there was to know about speaker mics," said Butler. "We needed a speaker that was loud enough—but also a microphone that was clear enough—with a button that would initiate what is truly wireless Voice Over IP traffic."

They also needed a very unique connector and robust cable to plug in to the vehicle mount computer. The cable had to be custom built from scratch, and Pryme was up to the challenge of designing one that would work. But, because of the nature of voice over IP traffic, the process wasn't easy. The DecisionPoint senior systems engineer worked closely with Pryme's President and Chief Engineer Dave George, using an actual unit, access point and team badge in order to test communications.

"It was a really unique application and we had to figure out how to interface our speaker mic with the computer's requirements," said George.

The connection was the key; but it could also be the weak link. As you can imagine, a large facility that operates 365 days a year, 24 hours a day can be a very tough environment for any equipment. For that reason, Motorola makes a very rugged unit. But the average connector would be broken in just a few weeks. No connector, no communication. So the onus was also on Pryme to design a cable and connector that could withstand the rigors of continuous use.

"These connectors and cables have lasted extremely well. It's a real testament that Pryme was able to develop the proper connector type paired with a strong enough cable that it could work in this very rugged environment," extolled Butler. "It's refreshing to find a company like Pryme that exceeds the expectations and delivers not only a great solution, but also one that was on time, even with the challenges of engineering a modification. Pryme demonstrated, in every way, that they are a company capable of doing what they say."

The concept of using a mobile computer for barcode scanning isn't new, but the functionality has been limited to this point. Now, with voice over IP push-to-talk technology combined with this new speaker mic package, warehouses/manufacturing plants and other large facilities with a strong wireless infrastructure can take full advantage of all the features and benefits their system has to offer.

Greg Henry, Vice President Product Offerings at DecisionPoint said, "Our tagline is 'Moving decisions closer to the customer.' Our mission really is all about empowering mobile workers so they can make better and quicker decisions. This is a perfect example of how we were able to take multiple technologies and improve mobile workers ability."

At the end of the day, it is about not just using an off the shelf product, but modifying it to the environment. This engineering collaboration gave the customer the power to get information quicker and in various formats, as well as the ability to integrate wireless voice capability in a demanding work environment.