4

FM quick reads on security

---
1. How to Avoid Mistakes With Access Control
Although the tight economy of the past few years continues to prompt many building owners and managers to take a careful look at planned investments, one area that appears ripe for growth is the access control market. After all, most building occupants want to know they're secure. Research by Markets and Markets shows the global market for electronic access control systems growing by 7 percent between 2012 and 2017, reaching $16.3 billion by 2017.

Facility managers charged with implementing a new access control system will want to do all they can to avoid mistakes. Of course, that's true of any implementation. However, mistakes can be particularly troubling with access control systems because they're so visible, says Patrick Wood, principal and senior consultant with Security Options and Solutions. "With access control, people touch it every day; they use their cards to get in." The implemented system needs to secure the building, yet still allow occupants to move about as needed.

Outside expertise may also be needed to provide input to the design and installation of the access control system. Bringing in an expert typically does carry a cost. However, trying to get by without such input can backfire, as potential stumbling blocks often aren't caught until later in the process. At that point, any flaws become more expensive to correct. Not only that, the mistakes and their correction — say, prohibiting occupants from using a particular entrance because it's not properly secured — often become more visible than a facility manager or owner might want.

Once buildings top about 1 million square feet, the number of entrances and the complexity of their security systems often means that bringing in a security consultant will pay off in problems avoided, says Ken George, president of Caprock Consulting Group. That's because his or her design plans should show exactly which systems and components are to be installed, and where they'll go. The plans should include a standard format that the contractors bidding on the project are required to follow, as this will make it easier for the facility owner to compare one bid to another. "You get back bids that are level," he says. "You can select not just the lowest bid, but the best bid."

Moreover, most facility managers' ongoing responsibilities make it difficult for them to provide adequate oversight during the design, installation and testing phases. In contrast, a consultant should be able to monitor the project on an ongoing basis, and then compare the final system to the plan. "A consultant is a knowledgeable body when the facility manager doesn't have the knowledge, or the time," says Harold Gillens, president of Quintech Security Consultants.
2

. Keep Security Equipment Cool To Extend Service Life

Managers can purchase video cameras, motion detectors, and other standalone security devices in enclosures that are rated IP65/66 or NEMA 4/4X, and they require nothing more than a sunshield. But in some cases, managers need to install equipment intended for interior use in exterior locations to support the security system. This equipment might include fiber optic converters, network switches, and power over Ethernet injectors.

Video cameras can feature a sunshield that stands off from the camera housing 1 inch or so and acts to absorb and dissipate heat before it reaches the housing.

Cooling systems can be classified as open or closed loop and active or passive systems. Open-loop systems use outside air to cool the components. They are often passive, using convection and heat dissipation. Closed-loop systems use internal air to cool the components. They are often active, using an external device or system to cool internal air.

Overheated components too often are a factor in the premature failure of security equipment. In some cases, the mean time between failure decreases exponentially as the heat increases beyond the operating range of the equipment.

It is also important for managers to ensure that equipment enclosures provide effective thermal management for the longevity of security equipment. The enclosure must be able to dissipate heat or prevent heat buildup beyond the equipment's maximum operating temperature. In very cold climates, managers might need to provide additional heat to keep the equipment from operating below the equipment's minimum operating temperature.

But since electronic equipment tends to reject heat inside an enclosure, overheating tends to be the greater problem. Too often, equipment is installed in an exterior enclosure with no thought to the heat load the equipment will generate inside the enclosure. The size or surface area of the enclosure plays a role in the amount of heat it can dissipate without using vents, fans, heat exchangers, or air conditioning.

The enclosure's location also might be a factor. If the enclosure is located in direct sunlight, it will have a significant increase in internal air temperature, and calculations to determine heat buildup become increasingly complex. The enclosure's color also takes on greater significance. For example, white enclosures will reflect much of the radiant heat from the sun.
3

. Use Equipment Properly To Ensure Security Success

As external threats to institutional and commercial facilities seem to grow daily, access control and security remain high on the priority lists of maintenance and engineering managers. In addition to specifying the most appropriate doors and door hardware to protect occupants and facilities, managers also need to understand the installation considerations related to security technology, such as video cameras and motion sensors, to avoid equipment failure.

One of the quickest ways to experience failure of any mechanical or electrical device is to install a device intended for interior use outside. Many security devices, including video cameras and motion detectors, are designed and made for interior use only. They will not withstand the extremes in temperature and humidity that weather can bring.

When selecting any of these devices, managers should look for an International Electrotechnical Commission (IEC) 60529 or a National Electrical Manufacturers Association (NEMA) 250 rating.

The NEMA 250 rating system also addresses enclosures resistance to the penetration of solid and liquid materials. But it also addresses such requirements as corrosion resistance, gasket aging, and construction practices that the ingress protection (IP) codes do not address. So while it is possible to select NEMA ratings that satisfy or exceed the IP code criteria, it is not possible to select IP codes that meet or exceed any given NEMA rating. Still, managers can use some rules of thumb to better select equipment suitable for indoor or outdoor use. Generally, equipment that is rated IP20 or NEMA 1 is intended for installation in a climate-controlled environment. Equipment that is suitable for exterior installation should have one of the following NEMA or IEC ratings: IP54 or NEMA 3 or 3R; IP65 or IP66 or NEMA 4 or 4X; IP67 or NEMA 6; or IP68 or NEMA 6P.

When specifying equipment for exterior applications in corrosive environments, managers must go beyond the IEC 60529 ratings. Saltwater or marine environments are corrosive environments for some equipment. Security devices installed within 12 miles of a coastline probably should be rated for a corrosive environment or enclosed in a housing designed to protect equipment from a corrosive environments.

Managers can purchase video cameras, motion detectors, and other standalone security devices in enclosures that are rated IP65/66 or NEMA 4/4X, and they require nothing more than a sunshield. But in some cases, managers need to install equipment intended for interior use in exterior locations to support the security system. This equipment might include fiber optic converters, network switches, and power over Ethernet injectors.
4

. Talk With Tenants About Security Needs

Today's tip is to remember that one key to security in multitenant buildings is also the oldest, lowest-tech option available: Talking. One reason communication is so important is that different tenants often want different levels of security, says David Duda, associate partner at Newcomb & Boyd.

"Some may want significant screening of visitors and deliveries prior to their entry onto the property; others may have little concern for the screening that takes place," he says. "Some tenants may feel that the act of screening is too invasive and may drive off clients or customers."

Face-to-face communication can go a long way toward alleviating problems. Government buildings frequently contain several departments or agencies, says Duda, and these tenants may well have different needs and require different systems. What's more, the tenant systems often communicate with different locations off-site.

On one project, says Duda, the solution was a "security summit meeting" that pulled together representatives from each government department and agency involved in the project. "We mounted floor plans for each area on the walls of the conference room and went from tenant to tenant and floor by floor through the building until we had reached a consensus as to the specific security measure to be implemented in each area," says Duda.

Once tenants had bought into the conceptual aspect, specific technologies could be chosen.

Another important step is to delineate building procedures and security systems with the tenant. One frequent issue, according to Fred Miller, president of Security Resources Group, is that a building owner's procedure for adding or deleting people to and from the lobby security database is not kept up-to-date.

Suppose an employee leaves a tenant firm but the tenant never updates the database. "There might be 3,000 people in the building but 5,000 people who have access to the building because their access privileges weren't removed promptly," Miller says. "It's a common problem."

Situations like that show why it's so important that owners stipulate security system expectations from their tenants. Informing tenants and clearly spelling out lease requirements — terms and conditions, too — is part of the owner's obligation.
RELATED CONTENT: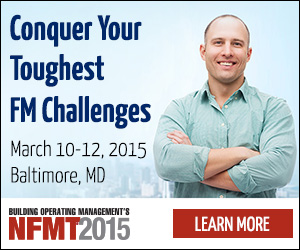 ---
QUICK Sign-up - Membership Includes:
New Content and Magazine Article Updates
Educational Webcast Alerts
Building Products/Technology Notices
Complete Library of Reports, Webcasts, Salary and Exclusive Member Content


All fields are required.


click here for more member info.

---
---
---