Multi-Task, Stylish Furnishings a Must for Collaborative, Creative Cincinnati TV Newsroom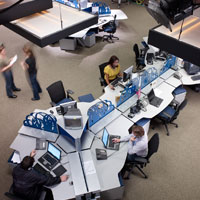 The concept of collaborative workspaces is taking many industries by storm, but the idea is nothing new to the media and its newsrooms, where teamwork has always been the norm. Nearly all newsrooms are bustling with the activity of staff working under the pressure of deadlines; however, there is one key difference that sets television newsrooms apart from the rest — viewers. In television, the newsroom can be a place the whole community sees on a regular basis, which is why it is critical for the furnishings to not only be functional, but also stylish.

Style and functionality were two essential ingredients WXIX, Fox 19, was looking for when evaluating new furnishings for its newsroom. The station needed an office solution that encouraged lively discussion, provided sufficient workspace, could accommodate several monitors and was sleek enough to be viewed on high-definition television.

"Working in a newsroom is a unique office environment because there's both a collaborative need and the need to work privately. These two things can go back and forth often in a matter of minutes," said Steven Ackermann, news director at WXIX. "You don't have the opportunity to take everybody to a conference room to have a meeting — especially when you're five minutes from deadline or a newscast."

Through a local dealer, the station was introduced to Kimball® Office's collaborative desking system, Hum. Minds at Work.® The line provided individual workspace and room for spontaneous meetings. "One of the real key features is the ability to really multi-task the furniture because that's what the people are doing. We have to have shared workspace. Every desk is used by at least two and in some cases three people throughout the day," said Ackermann.

After functionality, the line's style had to match the station's need to provide live reports from the newsroom two or three times a day. "How you look as a television station, and the news that you produce, is a big part of it. Certainly the content you generate is important, but you have to put out an aesthetically pleasing product, both with the talent and the set," said Bill Lanesey, vice president and general manager at WXIX. "This was a very important decision for us."

"WXIX is a perfect example of a collaborative and creative environment that needed to harness everyone's ideas and energy in order to produce a successful end product. In their case, the product is produced several times a day," said Jeff Fenwick, vice president and general manager at Kimball Office. "Hum's unique design and various levels of interaction allow each member of the newsroom staff to have their own space and maintain visual and audible communication with fellow team members, without worrying about distractions or interruptions."

In a breaking news situation, every second counts, and not having to change workstations for quick meetings gives WXIX an advantage to becoming Cincinnati's most reliable source of news.

About Kimball Office
A recognized leader in fine workplace furnishings, Kimball® Office has been building its reputation on quality and integrity of design for more than 35 years. The company is a business unit of Kimball International, Inc., a corporation that provides a variety of products from its two business segments: Furniture and Electronic Manufacturing Services. Based in Jasper, Ind., the publicly traded company (NASDAQ: KBALB) had sales of $1.2 billion in 2009. To learn more, please visit www.kimballoffice.com.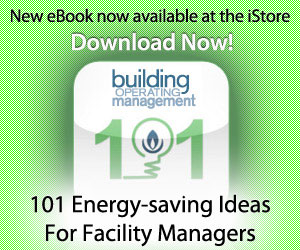 Sign Up For Free Industry-Update Emails



Site Highlights