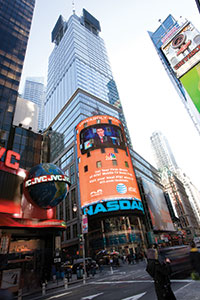 Metering Helps Office Tower Rise to Platinum
Schneider Electric
At One Bryant Park in midtown Manhattan, The Durst Organization built the world's first LEED Platinum office tower, with features designed for greater water efficiency, higher indoor air quality, and overall energy conservation.
To facilitate collecting energy data from the facility, Durst wanted a system that would allocate energy costs to tenants while allowing building staff to respond faster to issues that could affect tenant satisfaction and impact operational costs. Timely collection of energy usage data also allows for better reconciliation of utility tariffs. Durst specified a metering system that would allow its portfolio to send utility data to a centralized server via its local area network, enabling staff to view, trend and report on energy use by any building process, tenant space or an entire building.
Schneider Electric was selected for the task and expanded its ION Enterprise software server, ION tenant sub-meters and communication gateways at One Bryant Park, adding the ability to pull energy data from the building automation system to monitor operation of the cogeneration plant and ice-making equipment.
Wherever possible, existing meters and leveraged equipment were used to count pulses, with up to 20 meters connected to a single device. The metering system was also integrated with digital pulses from utility meters and with data from equipment such as VFDs.
The Web-enabled metering system allows Durst to manage its day-ahead, hourly pricing for electricity by tracking energy use in real-time and managing it during peak hours. It provides individual tenant billing and real-time system performance monitoring. And Durst's electrical engineers are able to analyze new tenant space designs and requirements to assure sufficient electrical distribution in accordance with lease terms and building rules and regulations.
Durst now monitors electrical distribution across its commercial portfolio in real-time and regulates power use during peak demand periods. In the event of a power disruption, on-board memory in each meter stores the data and sends it to the server when power is restored, assuring billing accuracy. As well, the previous 60-day lag between paying for a building's energy use and allocating those costs to tenant spaces ended when the new sub-metering system was installed.
posted: 6/4/2012