2

FM quick reads on Soap dispensers

---
1. Soap Dispensers: Cost and Hygiene Considerations
Soap dispensers offer managers a series of opportunities related to cost and hygiene, but they also can create challenges. Among the factors managers must consider:

Should each sink have a soap dispenser?
Should installers mount the dispenser on the wall or the mirror?
Should they mount the dispenser through the counter or on the sink itself?
A related decision involves the type of soap any given dispenser uses. Questions to ask:
Should managers specify anti-bacterial soap?
Should the soap be in bulk so housekeepers can refill the dispenser using a bulk container?
Should it be a bag or a box that fits right into the dispenser?
Should it be liquid or foam?
In the last several years, hand sanitizers have become nearly universal in facilities as organizations seek to protect the health of visitors and occupants. Among the decisions for manages specifying hand sanitizers is whether to select alcohol-based or non-alcohol-based products, and whether to select a liquid or a moist towel.
In many health care facilities, installers mount dispensers for hand sanitizers in patient rooms and hallways. The dispensers can be wall-mounted or mounted on a stand. They can be touchless in many organizations, which is an important consideration when seeking to further improve facility hygiene.
2

. Facility Design Important Facet of Maintaining Cleanliness of Restrooms

Too many facility designs ignore the implications of that design on cleaning requirements. To be effective, all elements of the restroom must be considered, from the ceiling to the floor, including fixtures, surfaces, and finishes. Every design decision made must consider its impact on cleaning labor and materials, or a restroom that is difficult to clean won't be clean.

For example, fixtures such as waste containers and paper and soap dispensers should be positioned to minimize cleaning requirements. Soap dispensers positioned over counters rather than sink bowls tend to leave material on the counters, which increases both cleaning efforts and frequency.

Even something as simple as selecting the right colors and finishes can reduce cleaning requirements. Light color countertops are better at hiding water stains than dark countertops. Similarly, surfaces and fixtures with a high polish finish show dirt and stains more readily than satin or dull finished ones. Medium- to dark-color ceramic floor tile will require less frequent cleaning. Selecting larger size floor tile will reduce the frequency and the difficulty of cleaning grout.

Restroom floors should have a positive slant towards multiple floor drains to ease the task of cleaning the floor. Fixtures, partitions, and trashcans that are attached to the walls or ceiling rather than the floor also reduce cleaning requirements.

Don't forget the custodial closet. Closets should be conveniently located within individual restrooms or within one of a cluster of restrooms. Wet closets must include the necessary plumbing systems, including a boxed-in floor drain to contain spills. Other equipment installed in the closet should be selected to match the specific cleaning requirements of that restroom or restrooms. Closets also should be properly sized in order to store an adequate supply of consumables for the restroom.
RELATED CONTENT: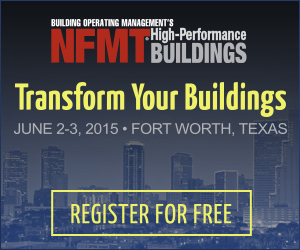 ---
QUICK Sign-up - Membership Includes:
New Content and Magazine Article Updates
Educational Webcast Alerts
Building Products/Technology Notices
Complete Library of Reports, Webcasts, Salary and Exclusive Member Content


All fields are required.


click here for more member info.

---
---
---