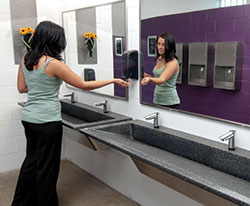 High Note: Music Festival Records Hit With New Lavatory System
Bradley Corp.
Often called the world's largest music festival, Summerfest debuted in 1968 in Milwaukee as a summer music celebration. Located on the shore of Lake Michigan, Summerfest draws about 900,000 people a year to hear musical acts for 11 days on 11 stages.
In 2011 and 2012, the Summerfest grounds underwent a $34 million facility renovation that included public and private restrooms in an effort to improve traffic flow and enhance the visitor's experience. The restrooms were among the areas that received the most attention.
"Restrooms are a direct reflection on any establishment, whether it's a fancy restaurant or music festival," says Robert J. Gosse, Summerfest's director of design and construction. "Our goal was to raise the level of design in our restrooms a few notches to heighten our patrons' overall experience."
The architectural team furnished restrooms throughout the grounds with a variety of Bradley Corp. washroom fixtures, among them the Verge® lavatory system. Gosse says the lavatory system's durability and low-maintenance features made it an ideal choice for the high-traffic venue, which endures frequent use, vandalism attempts, and frequent cleanings. The architectural team installed 24 Verge systems in several men's and women's restrooms near the park's entrances and music pavilions.
The lavatory system includes a hidden drain and a minimal trap cover to conceal plumbing and was designed to reduce installation time and costs. It complies with the Americans with Disabilities Act and is available for purchase in one, two, or three-user models.
The lavatory system's Evero™ fuses quartz with granite and features a non-porous surface helps stop microbial growth, and it is stain-, chemical-, scratch-, and heat-resistant.
"The basin's elongated design made our washroom spaces more efficient and conducive to better traffic flow," Gosse says. "Between Evero's durability and the fixture's streamlined shape, Verge is very easy for staff to clean and maintain and doesn't show dirt easily."
posted: 9/16/2013