4

FM quick reads on maintenance management

---
1. Avoiding Outsourcing Failure
I'm Dan Hounsell, editor of Maintenance Solutions magazine. Today's topic is avoiding outsourcing failure.

Directly or indirectly, all maintenance and engineering managers have experience with outsourcing. Many have found great success with outsourcing endeavors, but even more have found problems — even serious failures — with outsourcing contracts and contractors, says Michael Cowley, president of CE Maintenance Solutions, who provides maintenance training, coaching, and consulting services.

Outsourcing can be an effective tool to help managers and organizations make progress toward productivity and effectiveness, but outsourcing is not always a less-expensive or even successful alternative. And there is one common mistake managers make most often that is fatal to the process, Cowley says.

An array of problems, from hiring the wrong contractor or setting unrealistic goals to inadequate contract details or inflexible contracts, can ruin the relationship between the contractor and the manager and lead to outsourcing failure.

Good outsourcing contractors perform an autopsy after the death of an outsourcing contract to determine the reasons it failed and steps the parties involved can take to prevent future problems.

But here is the single most common cause of outsourcing failure: Building owners and managers who fail to understand the existing scope of work and do not offer a vision for measurable maintenance performance.

It might seem difficult to believe that most managers or owners are clueless about the details of the scope or statement of work for the existing job or workers, but it's true, Cowley says. Then they hire a contractor to do the work and expect that company to understand the organization's needs or wants, based only on a one-hour bid meeting and a 10-page document.
2

. Tracking Sustainability with a CMMS

This is Chris Matt, Managing Editor — Print & E-Media with Maintenance Solutions magazine. Today's tip is using a computerized maintenance management system, or CMMS, to improve sustainability.

One critical factor on the path to sustainability is maximizing the many benefits of a computerized maintenance management system (CMMS). When fully utilized, a CMMS can help guide departments toward the path to greater energy efficiency and sustainability.

Aside from proactively managing energy use, a fully functional CMMS can shed more light on an organization's energy situation, help organize data more effectively and give managers a useful tool to help develop energy-saving strategies. Key features required when specifying a new or upgraded CMMS to improve sustainability include an equipment module to track all assets, including facilities, in an organization.

In addition to standard modules for PM, work orders, inventory, and purchasing, the system should be able to set priorities and levels of criticality for each piece of equipment.

The CMMS also should give managers and system users the ability to:
• schedule inspections of energy-using equipment and pollution-control monitors to make sure they work efficiently
• track assets for proper disposal
• collect and store historical energy-use data so managers can identify problem areas related to energy waste, such as leaks
• establish an effective energy-reduction plan
• provide tracking of energy use with user-defined criteria
• correlate those criteria to the amount of energy used
• provide details of the amount of energy each asset, location, and building uses
• integrate with hand-held devices, such as smart phones and PDAs, to eliminate paper flow.
3

. CMMS: The Role of Custom-Report Generators

This is Chris Matt, Managing Editor of Print & E-Media with Maintenance Solutions magazine. Today's tip is the role of custom-report generators in computerized maintenance management systems, or CMMS.

Once specifiers are certain a new CMMS will ensure proper data entry and timeliness, the next step is making sure it allows managers to analyze the data to make continuous improvements.

Reporting is probably the most important functionality in any CMMS. Companies spend a great deal of money to ensure they can get appropriate information to consider when making meaningful decisions. The ultimate goal is to see the investment in a CMMS return in the form of operational savings, such as reduced labor costs.

An important reporting feature is the ability to quickly and easily generate custom reports. Too often, managers find they cannot get the exact data when they want it and in the format they need it, and they find they need reports the CMMS was not set up to produce initially. But as managers use the system, they realize the type of information they need, and custom reports become an important function.

Some CMMS lack the functionality to produce custom reports, while others require a third party's complex software and programming knowledge. An effective CMMS features a custom-report generator that relatively inexperienced CMMS users can employ to easily write custom reports.
4

. Energy Savings and Maintenance

I'm Dan Hounsell, editor of Maintenance Solutions magazine. Today's topic is energy savings and maintenance.

Organizations that undertake substantial renovation or construction projects to supplement an existing, building portfolio always work to ensure the rigors of the development do not affect operations or occupants. But when those projects take place in a health care environment, that focus becomes even more critical.

The challenge of melding existing operations with construction projects has not impeded the unprecedented Vision 2010 expansion by Texas Children's Hospital in Houston. The $1.5 billion expansion coincides with a renewed focus on energy efficiency in the hospital's mechanical and electrical systems.

Two big components of the hospital's energy-management strategy are its building-automation system, or BAS, and its enterprise asset management system, or EAM. Milton spearheaded efforts to upgrade both the BAS and the EAM for the Vision 2010 expansion.

"In the transition, all of the new assets will be loaded into that database, and more information will go in with the asset than with the older system," says Skip Milton, the hospital's assistant director of facilities operations, energy, maintenance and operations. "We'll be able to link that asset tag to an operations and maintenance manual for that asset. We'll be able to link that asset tag to a floor plan on a computer-aided design drawing of where it's sitting."

For example, consider the challenge of maintaining filters on a 40-ton air-handling unit. When the differential pressure across the filter bank reaches a level at which technicians need to replace the filter, the EAM generates a work order so technicians know to perform preventive maintenance on the unit.

Says Milton, "We're saving a lot of money just by optimizing operations. We haven't spent any capital yet for energy management. We reduced energy consumption by $1.2 million."
RELATED CONTENT: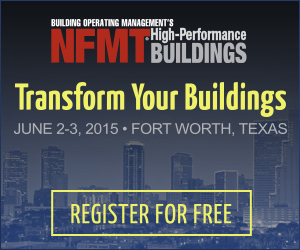 ---
QUICK Sign-up - Membership Includes:
New Content and Magazine Article Updates
Educational Webcast Alerts
Building Products/Technology Notices
Complete Library of Reports, Webcasts, Salary and Exclusive Member Content


All fields are required.


click here for more member info.

---
---
---