Browse through an extensive choice of aluminum doors on ArchiExpo
Facilitiesnet invites you to visit ArchiExpo, where you will find a section devoted to doors, including aluminium doors, entrance doors and patio doors. Contributing to privacy, security, thermal and acoustic comfort, a well designed door with an attractive finish can improve the quality of interior spaces, or even the surroundings.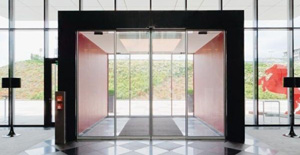 Doors for commercial use
Doors designed for commercial or public use often need to meet higher standards to cope with the stresses of high traffic and professional environments. Automatic doors may be preferred to manually opening doors in high traffic areas to facilitate movement between spaces and may be sliding, pivoting or rotating. Automatic rotating doors help to avoid heat loss, but are less user friendly than automatic sliding doors.

Aluminium gates
Aluminium gates may be selected over gates in other materials (such as steel or wood) due to their lightweight, high strength, natural resistance to corrosion and low maintenance. They are available in a variety of styles and finishes for environments such as commercial and residential properties. From manually operated to automated sliding gates, our site has a wide selection to choose from.

Patio doors
There are many parameters to consider when choosing patio doors including their dimensions, the number of leaves required, thickness of the frame, thermal, acoustic and security properties of the glazing. Patio doors come in many forms including sliding, folding, frameless or double doors. Folding patio doors may have multiple door leaves to cover large spans.