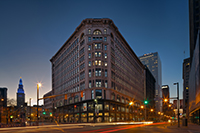 Lighting Retrofit Solution Gives Historic Building a Modern Makeover
Acuity Brands
The historic Rose Building in Cleveland is one of the city's premier steel-frame buildings, and was once the tallest office building between New York City and Chicago. Built in 1900, it is has served as the headquarters for health insurance company Medical Mutual of Ohio since 1948. While the building is honorably listed on the National Register of Historic Places, its old lighting system was not delivering ideal light quality or energy efficiency.
In October 2011, Medical Mutual began to explore a more energy-efficient lighting solution for the company's headquarters, with its 16 floors (including an annex) covering 381,000 square feet lit by nearly 3,000 T12 deep cell parabolic fixtures.
There were a number of challenges to the Rose Building's lighting system upgrade. The first was finding the right light level for employee comfort. The second challenge was increasing the light efficiency in the entire space while achieving better light quality. Reducing maintenance was also an important consideration. Some floors at Medical Mutual are in full operation 10 to 13 hours a day. With T12 lamps, maintenance needed to replace the lamps rather often. As well, the Medical Mutual team wanted to install the new lighting system without disrupting the flow of business.
The solution was found in more than 2,600 Lithonia Lighting 2RT8R Relight Kits. The retrofit using complete fixture kits addressed all the project's challenges, delivering the appearance of a modern fixture within the housing of the old fixture while saving 61 watts per fixture.
An existing Lighting Control & Design control panel allows the facility team to tune the wattage of the lighting floor-by-floor, so the fixtures include a step dimming ballast to allow each floor to have unique light levels. Fixtures were dimmed gradually to a point that occupants did not notice the light level was changing. Once employees did take notice of light level changes and confirmed preferences, the controls were set at a desired level.
Medical Mutual's lighting retrofit was completed in March 2012. The previous fixtures used 1.9 million kilowatt hours, while the new Relight fixtures use 906,000 kilowatt hours annually.
posted: 2/4/2013