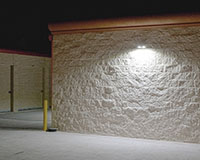 LEDs Have a Bright Future at Self-Storage Facility
RAB Lighting
Constructed in the fall of 2010, Assured Self Storage of Duncanville, Texas, consists of 10 single-story buildings housed on roughly five acres of property, with each building containing multiple storage units ranging in size from 2,400 to 10,000 square feet.
Exterior lighting is extremely important to the facility for a number of reasons. First, there's no lighting in most of the units, so lighting is critical to enhancing nighttime safety, both inside the units and on the property. Good lighting is also important for clear footage with the property's 32 security cameras. The company wanted a long-lasting light source to minimize maintenance costs. And with lights on timers and on from dusk to dawn, energy efficiency was another key requirement.
RAB Lighting's 20 Watt LED wallpack fixtures were selected to address all of Assured Self Storage's requirements. The fixtures deliver more than 80 percent energy savings relative to an equivalent 150-watt metal halide light source, according to the company, and feature a 50,000-hour life as well as a fully-gasketed, die-cast aluminum housing.
The fixture offers over 1,400 lumens of initial light output and 5000K color temperature. It incorporates a full cutoff, fully shielded design, is UL-listed for wet locations, has a minimum starting temperature of -33F, and is suitable for use in ambient temperatures of up to 122F.
In February 2011, 55 of the LED wallpacks were installed at the facility, which reports the lighting gives an inviting feeling to the property. "RABs LEDs deliver the perfect amount of light and really help our customers to feel safe in their surroundings, which is critical to our mission as a responsible business and community partner," says Christine Thurston, residential manager at the facility. "Many customers have also shared with us that the lights look great and are very attractive."
Because of the impact the fixtures have had on the facility's energy bills, the parent company, The Assured Group, plans to use these lights in other facilities they build.
posted: 7/2/2012