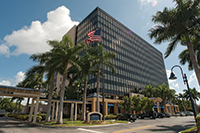 UV Lighting Provides Class A Performance in South Florida
UV Resources
The 12-story BayView Corporate Tower in Fort Lauderdale, Fla., covers 412,000 sq. ft., houses 13 corporate tenants, and is always looking for ways to provide premier office space, from finishes to systems. In July 2011, a routine evaluation of the BayView Tower's mechanical systems revealed an opportunity to improve the performance of the HVAC systems with modest upgrades, including the addition of ultraviolet-C (UV-C) lamps.
The UV-C wavelength eliminates, and further prevents, microbial and organic materials buildup on HVAC cooling coils, air filters and duct surfaces, and in drain pans, according to UV Resources, the manufacturer of the system installed at BayView Corporate Tower. The retrofit project began in January 2012.
With two cooling towers, three chillers and 24 AHUs (two per floor), the UV installation at the BayView Corporate Tower presented some challenges. The existing AHUs were 25 years old and offered limited access to the evaporators. Because of the tight access, the RLM Xtreme high-output, fixtureless UV-C lamp system was used. This UV-C system installs in about half the time of conventional fixtures and offers flexible configurations, according to the company.
The retrofits were completed in four days using two installers. The performance of the HVAC system's cooling coil was measured before and after the UV fixtures were installed through an independent audit. During the velocity profile tests conducted prior to the RLM Xtreme installations, varying levels of velocity, indicating that some parts of the coil were much dirtier than others, were discovered. After the installation, the air velocity readings were found to be much more stable across the entire coil surface. There was an improvement of the off coil dew point, and the coils and condensate pans became cleaner as well.
The audit showed airflow levels increased by 47 percent in one air handler, or roughly 10,000 CFM, and there was a reduction in both fan and refrigeration-system energy consumption. The energy reduction paid for the upgrade in three months, according to the company.
To read the results of the audit, go to http://uvr.media-resources-ordp.com/2013/_docs/IAQ-AuditResults-AtlanTech-BayView-Towers.pdf
posted: 2/25/2014