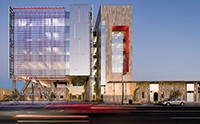 High Style and High Performance Combine At City Hall
Mitsubishi Electric US Cooling & Heating Division
Founded in 1891, Chandler, Ariz., is a major suburb of Phoenix. When it came time for a new municipal complex, the city wanted a mixed-use facility to cater to the community's needs and serve as an icon of excellent design and sustainability.
The resulting five-building, 137,000-square-foot civic center campus includes city offices, council chambers, a television studio, a printing center, a community art gallery, a courtyard and a parking facility. In May 2013, Chandler became one of 24 city halls in the U.S. to receive LEED Gold certification.
For the city hall's vital nerve centers — 17 electrical rooms and nine data closets located throughout the five buildings — a high-performance HVAC system was needed. It had to be able to handle the constant heat gain produced by the electrical equipment and keep the rooms at a constant 75 degrees F while still meeting the city's energy reduction goal. For security, the HVAC system for these nerve centers had to be separate from the unitary control systems of the other buildings.
A variable refrigerant flow (VRF) zoning system, the Y-Series from Mitsubishi Electric US Cooling & Heating Division, was selected. For the public spaces in Chandler's buildings, including the TV studio, print shop, some small offices, elevator stairwells, bathrooms and hallways, the R2-Series, a two-pipe heat recovery system that simultaneously cools and heats multiple zones, was installed.
With the VRF zoning system separate from the HVAC systems powering the rest of the campus, in the event of a catastrophic power failure, the stand-by generators can power just the Y-Series and one of the R2-Series systems. This enables continued cooling of the nerve centers without having to power HVAC for the rest of the complex. The relatively low electrical load requirement of the VRF zoning system installed makes it easier for a generator to power, according to the company.
posted: 6/23/2014