Schedule Regular Safety Relief Valve Inspections
By Vince Basilio, P.E. May 2014 - HVAC
Record the year the valve was installed and when it needs replacement or repair. From there, make a schedule for regular testing of each safety relief valve. Different safety relief valves have different requirements. Either refer to the original instructions, which are available on the manufacturer's web page, or perform it at least once a year.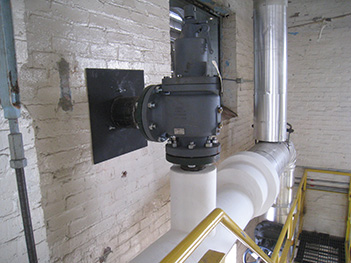 Steam application with no drip-pan elbow and outlet is restricted from thermal growth.
In some cases, when a relief valve pops such as when it is tested, the valve will not reseat, and the fluid or gas might weep. This is not a reason to forego the testing. It is a reason to be prepared. For critical systems, have an extra relief valve that can be sent to a certified shop for re-stamping, and time the replacement during a planned outage.
When testing steam system relief valves, observe whether steam blows out the drip-pan elbow instead of through the vent pipe. This could be a sign of an undersized vent pipe, and it can be a dangerous situation to somebody who happens to be next to the valve when it goes off.
Review the list with all operators and related personnel who work with the systems.
Do the right thing
If you follow the recommendations above, you are doing your part. Your organization might hire inspectors from an insurance company that check on boilers and pressure vessels, but they might not check all of safety relief valves, so do not rely solely on them. Do your own inspections and tests.
For more information about safety relief valves, consult the American Society of Mechanical Engineers, which governs the design of most safety relief valves — how they are sized, what types, how much capacity is required, etc. — and the National Board of Boiler and Pressure and Vessel Inspectors, which governs the certification of the valves and deals with manufacturers and installations.
The old saying, "the only thing necessary for the triumph of evil is that good men do nothing" applies here. Managers can avoid creating real-life horror stories by doing the right thing and meeting the responsibility to protect the safety of facilities and everyone in them.
Vince Basilio, P.E., CEM — vince.basilio@rfm.com— is a mechanical engineer at RMF Engineering with 20 years of experience as a consulting engineer in the steam industry. He is also an associate National Board Inservice Commissioned Inspector. He has extensive experience in utility distribution system designs and stress analysis of steam systems ranging in pressure from 40-1,000 psig and temperatures of 300-1,000 degrees. He has evaluated and designed steam-related systems, including feedwater, condensate, continuous blowdown, blow-off, coal handling, compressed air — plant and instrument quality — fuel oil (No. 2 and No. 6), natural gas, propane gas, biogas, chemical treatment, water treatment — reverse osmosis, zeolite softening, condensate polishers, mixed bed polishers, magnetic filters and anion and cation units — and cooling systems. He is recognized as a leader in applications of low NOx-producing burners for new and existing boilers.
---
---
Comments
Find us on Google+