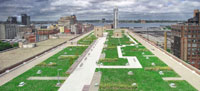 The Big Apple's Big Green Roof
Tecta America Corp.
The U.S. Postal Service's Morgan Processing and Distribution Center in New York City was built in 1933, and the 2.2 million-square-foot facility's roof was originally constructed to serve as an additional mail processing location. As the city began to focus on and evaluate stormwater management, the building underwent a routine roof replacement review in 2007. Calculations indicated that the surface was able to support 200 pounds per square foot, and the facility saw the installation of a green roof as a much-needed addition in order to positively affect stormwater runoff.
Aiming to honor its commitment to sustainability, the Postal Service drafted goals for the roof including a 30 percent reduction of energy use by 2015 and a desire for a decrease in stormwater runoff.
Tecta America Corp. was selected to install the 109,000-square-foot TectaGreen system on the Morgan Center rooftop in 2009. The new roof system consists of 80-mil PVC loose laid membrane installed over 1/4-inch DensDeck board and 3 inches of extruded polystyrene insulation. The structure also reused 60 percent of the original roof materials and features native and non-native plants, trees and grass. The four to eight inches of soil, compared to the 1-inch depth standard on most green roofs in New York City, provides significantly higher evapotranspiration rates for the building as well.
A Columbia University study found that the vegetative roof of the Morgan Center prevented 77 percent of all rainfall on the facility from entering the New York City sewer system in the form of runoff. This limitation of stormwater runoff prevents chemicals, debris and other pollutants from entering the New York City sewer system, which eventually leads to lakes, streams and rivers.
The U.S. Postal Service's Morgan Processing and Distribution Center is the largest green roof in New York City and is LEED certified.
posted: 6/18/2012