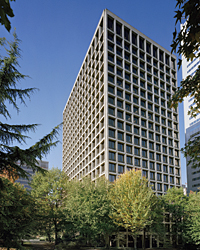 Platinum in Seattle
Park Place
The 21-story, 314,591-square-foot Park Place office building located in downtown Seattle has earned a Platinum certification with the LEED for Existing Buildings (version 2) rating system — the first LEED Platinum building in Seattle. Owned by Washington Real Estate Holdings and managed by Wright Runstad & Company, the building was constructed in 1971.
Because of the building's age, both operational changes and a few upgrades were necessary for achieving the Platinum certification. For instance, the building team, with an assist from Transwestern, which provided LEED consulting, installed an 18,000-square-foot green roof that captures more than 50 percent of the rainfall. Other water-saving strategies include water-efficient plumbing fixtures and a satellite-controlled irrigation system designed to use 50 percent less water than a standard system.
One of the key facets of the sustainability initiative in the building is a sophisticated Web interface that allows tenants, building staff and visitors to see real-time data, including water captured and reused, as well as lighting, HVAC and general building loads. Given that one of the building's four tenants is the Environmental Protection Agency, this was an especially important feature.
Other tenant-friendly features include systems to measure outdoor airflow to ensure good indoor air quality and a green cleaning program. Occupants collect and recycle more than 75 percent of their daily waste.
With an Energy Star score of 86, the building ranks in the top 15 percent of similar buildings in terms of energy performance.
posted: 1/5/2010