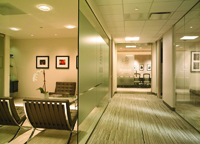 BOMA Chicago Earns LEED-CI Silver
Chicago Chapter BOMA
The Chicago Chapter of the Building Owners and Managers Association has earned a LEED for Commercial Interiors Silver certification on its new 5,500-square-foot space in Chicago's Loop.
When the organization began looking for a new space, it had some very specific criteria, says Michael Cornicelli, BOMA Chicago's executive vice president. The base building had to be LEED certified (or in the process of achieving LEED certification), and the space had to have plenty of conference areas and access to daylight.
"One of the easiest and cheapest ways to cut energy costs is to have lots of natural light," says Cornicelli. "So the layout of the space was very important to us. This building has floor-to-ceiling and wall-to-wall glass."
Cornicelli says that about 90 percent of work spaces have access to the natural light, which accomplishes one of the original goals for the space: Making it as light, airy and energy efficient as possible.
To address the energy efficiency goal, the space also makes use of lighting controls, LED downlights in the reception areas and LED task lights around workspaces. All appliances in the space are Energy Star labeled. The energy efficiency strategies are working, says Cornicelli. BOMA Chicago increased its space by 30 percent when it moved last December, but its energy bills have been reduced by an average of 17 percent. The organization also contracts with the utility to buy 20 percent of its energy from renewable sources.
The space, which was built out for around $80 per square foot, also includes special carpet tiles made of recycled content that don't require volatile organic compound (VOC)-emitting glue. Low-VOC paints were also used.
"Achieving LEED certification is not a slam dunk by any means," says Cornicelli. "You have to look very closely at what's possible and assemble the best team possible from the beginning."
posted: 9/30/2009