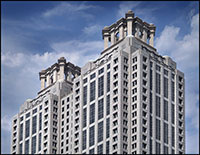 Atlanta Icon Regains Grandeur Sustainably
Georgia-Pacific Professional
As the fourth tallest Class A office building in downtown Atlanta, One Ninety One Peachtree Tower is an icon of the city's skyline. Built in 1990, the 50-story, 1.2 million square foot building was in a period of decline in the early 2000s, with occupancy rates dropping to just 20 percent after it was sold by its original owners, Cousins Properties.
Planning to restore the building's grandeur, Cousins purchased its former property in 2006 and invested more than $12 million in improvements to the building's street presence and atrium lobby, as well as the addition of a fitness club, coffee bar, sundries shop, dry cleaner, and two restaurants.
But as a company with a historic commitment to decreasing environmental impact, Cousins finds sustainable operations just as important as physical and aesthetic upgrades, both in terms of corporate performance and tenant satisfaction.
"Many of our customers are now saying they really don't care to do business with a building owner or landlord that doesn't reflect their own sustainable practices," says Larry Gellerstedt, president and CEO for Cousins.
To that end, Cousins achieved LEED Silver Existing Building certification for One Ninety One Peachtree Tower in 2007. The Cousins team also designed Resolution Fitness, an eco-friendly wellness club (LEED-CI Gold Certification), which overlooks the atrium from the third floor.
With LEED certification, the devil is in the details. "We're always looking for the little things we can do to create efficient and sustainable operations," says John McColl, executive vice president of development for Cousins.
As an example, McColl cites the installation of touchless enMotion paper towel dispensers from Georgia-Pacific Professional in all Cousins restrooms, including those in One Ninety One Peachtree Tower, which in addition to improving hygiene, reduced waste by 30 to 35 percent.
Today, One Ninety One Peachtree Tower has an occupancy rate of more than 80 percent. The building's improvements have also helped bring life and foot traffic back to Atlanta's famous Peachtree Street.
posted: 11/7/2011