4

FM quick reads on communication

---
1. Newsletter Can Help Facility Managers Reach Key Audiences
Today's tip from Building Operating Management: A regular newsletter can help facility managers reach key audiences.

There are many channels for communicating with audiences that are important to facility managers. One that's worth examining is the newsletter. At Texas Children's Hospital, the facility department creates a six-page bi-monthly in-house newsletter called Service Connect, which is distributed to 450 employees and senior leadership. The facility department is also the only one at the hospital to generate an annual report document, which is distributed to the senior executives and board of trustees.

When the Texas Children's Hospital marketing department first saw the documents, says Bert Gumeringer, director of facility operations and security services, the marketers were surprised by the quality of the design. Although it is a significant time commitment to generate those graphics, Gumeringer sees a clear payback.

"We publish things of interest to our employees but we also always publish things that are of interest to senior leaders in the organization," Gumeringer says. "If they know that we're doing things down here, that helps us from the standpoint of communication with them. I believe it adds a lot of value to the organization, because they know we're not just sitting down here like the Maytag repair man waiting for something to happen."

In an age where these documents could easily be presented in an electronic format, Gumeringer chooses to go with documents printed in color on glossy paper for a couple reasons. For one thing, many of his employees do not have access to computers at home, so it would be impossible for them to share their achievement honored in Service Connect with their families. But it's also a response to the daunting nature of electronic communication. "We're being bombarded with electronic information; I can't read it all, what people send to me," he says. "But when they send me things like a Service Connect, I will read it. I will look at it cover to cover. I will take it with me to meetings or when I ride the shuttle bus back and forth to meetings. It's so much harder to read that electronic stuff on the bus, on my little cell phone screen."

This has been a Building Operating Management Tip of the Day. Thanks for listening.
2

. Talk With Tenants About Security Needs

Today's tip is to remember that one key to security in multitenant buildings is also the oldest, lowest-tech option available: Talking. One reason communication is so important is that different tenants often want different levels of security, says David Duda, associate partner at Newcomb & Boyd.

"Some may want significant screening of visitors and deliveries prior to their entry onto the property; others may have little concern for the screening that takes place," he says. "Some tenants may feel that the act of screening is too invasive and may drive off clients or customers."

Face-to-face communication can go a long way toward alleviating problems. Government buildings frequently contain several departments or agencies, says Duda, and these tenants may well have different needs and require different systems. What's more, the tenant systems often communicate with different locations off-site.

On one project, says Duda, the solution was a "security summit meeting" that pulled together representatives from each government department and agency involved in the project. "We mounted floor plans for each area on the walls of the conference room and went from tenant to tenant and floor by floor through the building until we had reached a consensus as to the specific security measure to be implemented in each area," says Duda.

Once tenants had bought into the conceptual aspect, specific technologies could be chosen.

Another important step is to delineate building procedures and security systems with the tenant. One frequent issue, according to Fred Miller, president of Security Resources Group, is that a building owner's procedure for adding or deleting people to and from the lobby security database is not kept up-to-date.

Suppose an employee leaves a tenant firm but the tenant never updates the database. "There might be 3,000 people in the building but 5,000 people who have access to the building because their access privileges weren't removed promptly," Miller says. "It's a common problem."

Situations like that show why it's so important that owners stipulate security system expectations from their tenants. Informing tenants and clearly spelling out lease requirements — terms and conditions, too — is part of the owner's obligation.
3

. Account For Disabilities In Emergency Plan

Today's tip is to consider disabilities in preparing an emergency exit plan. Could everyone who uses your building safely evacuate without using stairs in an emergency?

Not counting individuals with obvious physical disabilities, consider individuals with a heart condition, a breathing condition, a panic disorder, or a hearing loss. Or perhaps a young person who just had surgery and is on crutches works on the 30th floor of the building. People come in and out without disclosing much, if any, information about their needs.

A competent professional who understands the needs of individuals with all types of disabilities, as well as the requirements of the Americans with Disabilities Act (ADA), can collect information about emergency-alarm systems and emergency-communications systems systematically during a thorough ADA evaluation.

Managers are ready for the next step — education and communication — once they know the emergency components a building will support, including areas of rescue assistance; emergency-communication systems that meet the needs of persons with hearing disabilities; visual alarms where required; identification of assistive equipment, such as evacuation chairs; and an emergency-response team with floor wardens.

What planners need to know is, "Would you need assistance in evacuating the building if the elevators were shut down?" That question does not intrude into anyone's personal disability or business, but it begins the dialogue. But managers should preface that question with a great deal of education and outreach about the efforts to ensure the safety of the building and its occupants.

The next big step is planning and implementing regular drills. Arguments abound among employers and tenants about scheduled fire drills, and many people leave the building shortly before the alarms are scheduled to go off. For this reason, managers should consider periodic, unplanned drills.

If this all seems a bit overwhelming, it can be, especially for managers more accustomed to dealing with facility issues. The solution is a planning process that includes sufficient time, along with proper attention to detail, care, and diligence.
4

. Facility Policy Practices for Good IAQ

Sometimes a facility's HVAC system has remained largely untouched since it was installed 30 years ago. To help ensure the quality of the facility's indoor air, newer mechanicals might be a big help. But there's a lot you can do by making sure vintage mechanicals are not being operated under equally vintage policies.

First, review current energy conservation programs. Many energy conservation programs were started before concern over IAQ arose. One practice, indiscriminately closing outside air dampers, should be discontinued immediately.

In addition, the benefits garnered from energy-saving measures such as duty cycling, load shedding, raising chilled water temperatures and reducing hot water temperatures, should be evaluated in light of their effects on the indoor air environment.

Continuously document the operation of the HVAC system. Because the HVAC system acts as the lungs of the building, it is important to verify and document its operation periodically. Often HVAC system and component technology can assist in accomplishing this goal. For example, with air flow monitoring technology, it is possible to track the amount of outdoor air delivered down to each zone.

Also, develop an ongoing training program for building personnel. System operators and building managers need to be kept up to date on proper IAQ and their IAQ responsibilities. Trade journals, books, seminars and consultation with IAQ professionals are good starting points.

And last, don't be afraid to publicize proactive IAQ efforts to building occupants and potential tenants. A building's good IAQ is a market asset. Creating a newsletter, tweeting or updating the department's Facebook page to inform occupants and potential tenants on the latest IAQ developments and your building's IAQ program are some ways to capitalize on this asset.
RELATED CONTENT: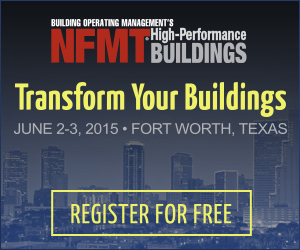 ---
QUICK Sign-up - Membership Includes:
New Content and Magazine Article Updates
Educational Webcast Alerts
Building Products/Technology Notices
Complete Library of Reports, Webcasts, Salary and Exclusive Member Content


All fields are required.


click here for more member info.

---
---
---