Water consumption strategies with Todd Wilkening
Wilkening discusses educating his staff on ways to conserve water.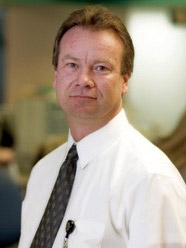 Todd Wilkening
Director of Facility Services,
Ridgeview Medical Center, Waconia, Minn.

1. When did your staff make water conservation a priority, and what were the biggest challenges you faced implementing the changes?

In 2003. The largest challenges were:
1. Any capital investments needed to be timed with the life cycle of the equipment
2. Existing building plumbing design conditions challenged performance of low flow devices. Low flow can increase the risk of legionella. Close attention must be paid to this.
3. Staff education


2. Describe one of the projects you initially used to get a program started.

The installation of low flow devices on showers, toilets, and sinks.


3. What are some of the procedures your facility practices to use reclaimed water?

Collecting air handling condenser water to be used as make up water in cooling towers.


4. How have changes to your irrigation system impacted conservation efforts?

Rain sensors have greatly reduced irrigation needs. Additionally the use of native plantings has reduced watering requirements during dry periods.


5. What kind of savings have your water-conservation benefits generated?

Simply going to low flow devices generated $28,000 in savings the first year.


6. What are your next plans for conserving water in and around your facilities?

Continue to do what we have been doing and seek ongoing opportunities to improve and expand our knowledge base for water conservation to employees to improve water conservation in their homes.
posted: 12/11/2012 12:00:00 AM