4

FM quick reads on Energy Efficiency

---
1. Geothermal Heating & Cooling Can Save 60 Percent on Energy
Today's tip is about ground source heat pumps, also known as geothermal heat pumps, which, when incorporated into the design of a new building, can trim a facility's energy bill compared to buildings heated and cooled with traditional systems.

Ground source heat pumps harness the energy of the Earth - geothermal heat - to provide cheap, efficient cooling in the summer and heating in the winter. Because their initial expense is significantly greater than traditional HVAC, they have a payback period from 5 to 12 years, in most cases. But they can save as much as 60 percent on energy costs compared with a traditional HVAC system and the payback period shortens as energy costs continue to rise.

The most critical factor in determining whether a geothermal heat pump system is cost effective is the load. If there is a good balance between heating and cooling, the systems can operate cost effectively. A more cooling-dominated building can see even greater energy-cost savings.

There is two general categories of ground source heat pumps: Open loop and closed loop. Open loop systems are less common, usually deriving their energy from ground water sources. Closed loop systems are comprised of a continuous loop of vertical or horizontal pipes placed in the ground with a liquid circulating through them. In vertical closed-loop systems, holes of 300 feet or more are drilled into the earth.

Because geothermal heat pumps use renewable energy, some utilities or third-party organizations may offer incentives or rebates to help defray the higher first cost of the systems.
2

. Making Demand-Response Work

I'm Dan Hounsell, editor of Maintenance Solutions magazine. Today's topic is, making demand response work.

To successfully participate in what they hoped would be a lucrative demand-response program, facility managers with Allegheny County, Pa., understood their commitment went far beyond simply shedding energy load.

A successful program meant Philip La May, the county's deputy director of public works, and Jeaneen Zappa, its sustainability manager, would have to overcome resistance. To do so, La May and Zappa had to shift the culture of the county.

"Conservation includes behavior change and taking advantage of every opportunity we have to be part of a larger solution for the community," Zappa says. "We have an obligation to set the right example. It behooves us as a government in particular to say, 'This is how we can do this.' And, of course, there is a financial benefit to it."

La May is working to ensure the resistance does not deter his staff from contributing to the county's sustainability efforts.

"It's moving away from what we're used to toward what we hope to be the new norm," he says. "It means our employees learn about new equipment, new materials and new processes. In that process, we end up, hopefully, training a new normal."

To realize the energy and cost savings demand-response programs are designed to generate, employees in all departments had to get on board. The county conducted its first test demand-response event in August 2010. It resulted in about $300,000 for the county — a combination of the payment for participating in the program and the utility cost savings from the reduction in kilowatt-hours (kWh).

For buildings participating in the program, the county and its energy-consulting load aggregator, Comverge, identified critical staff responsible for ensuring occupants understand the way operations will change during the demand-response event, as well as the role they play in helping shed load.

"It took a lot of coordination to make sure that stationary engineers and electricians had input as to the best way to shut things down and how to approach the building occupants," La May says. "Short of doing our dry run, we tried to plan it out as best as possible, making sure we have the staff available throughout facilities to be accessible to building occupants with questions about what they need to do."
3

. How to Customize Sub-Metering Systems

This is Chris Matt, Managing Editor of Print & E-Media with Maintenance Solutions magazine. Today's tip is customizing sub-metering systems.

Each facility produces a unique energy-load profile with specific circuits and systems that would be advantageous to monitor. Managers should customize sub-metering systems to provide maximized benefits and flexibility for the facility. A well-designed sub-metering system also allows for future scalability to meet changing energy use and demand needs.

The advantage of sub-meters is that managers can install them easily in both new and existing facilities. They are much lower in cost compared to most utility-scale master primary meters. An electrician typically can install a sub-meter in about three hours.

Managers also can easily integrate the meters into an electrical-distribution system without having to make major interior or equipment changes in the building. Installation is as easy as connecting current sensor clamps around each phase of electrical feeders and adding potential taps.

The average cost to buy and install a sub-meter and control wiring connected to a building-automation system is $1,500-$2,500 per control point. Managers also might consider additional funding measures from local utility companies.

To ensure effective installation, managers also can properly maintain the sub-meters by implementing initial commissioning and preventive maintenance plans.

Technicians should check communication gateways and networking to ensure each control wire in the system functions and interacts within the system properly. For new projects or retrofits, employ a commissioning agent for quality control and to ensure building meters and metered systems are designed, installed and calibrated to operate as intended. The unit should deliver data managers and technicians can access easily, possibly via the Internet or another web-based platform.
4

. How To Make Data-Based Decisions

Today's tip is about how facility managers can use data to make decisions. Facility managers are probably well familiar with the idea that "you can't manage what you can't measure." That may be true, but to truly manage, that maxim should be expanded upon a bit. Really, "you can't manage what you can't measure, analyze and make decisions as a result of."

Some facility managers think simply collecting data is enough. They think, "Well, now that I'm measuring this, if a problem ever arises, now I'll have the data to investigate." That's too passive, most experts would say. Only collect data if you can be sure you have a way to analyze it with a specific goal in mind - reducing energy use or lowering your space-per-occupant standard, for instance.

Let's take a look at an example: Rob Pearlman, who is the senior facilities and administration officer at International Finance Corporation, a Washington D.C., based member of the World Bank Group, has been running an experiment at the company's 1.2 million square foot headquarters. He uses his building automation system to tweak setpoints in particular areas of the building, and then tracks complaint calls into his facilities help desk to determine if the new setpoint is to hot or too cold for the occupants. If complaint calls don't fall outside of an already-carefully-monitored threshold, Pearlman leaves the setpoint and then begins tracking how much energy the new setpoint saves. It's a brilliant strategy to squeeze every last ounce of energy out of a building that is already at a 94 Energy Star rating.

Health care facility managers may be familiar with this concept, which they call evidence-based design or evidence-based management. It's a concept that facility managers would do well to become familiar with and implement in their own organizations.
RELATED CONTENT:
Energy Efficiency , Ground Source Heat Pump , Geothermal Heat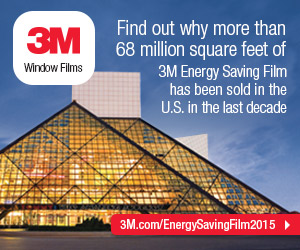 ---
QUICK Sign-up - Membership Includes:
New Content and Magazine Article Updates
Educational Webcast Alerts
Building Products/Technology Notices
Complete Library of Reports, Webcasts, Salary and Exclusive Member Content


All fields are required.


click here for more member info.

---
---
---