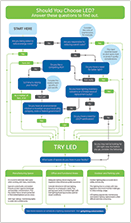 The answer is simple.
Upgrading your facility's lighting is a big decision – and it can also be a very rewarding one. Whether you're tasked with enhancing the look of an interior or exterior space, reducing maintenance costs or maximizing energy efficiency, the clear answer may be LED.
This easy-to-follow flowchart will guide you through the questions you should ask when determining if it's time to upgrade your facility's lighting.