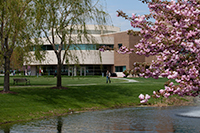 University Leverages Data Center's Efficiency
Schneider Electric
Located outside Providence, R.I., Bryant University is focused on providing rigorous academic programs that integrate business and liberal arts, maintaining a strong technology foundation as a strategy for educating the next generation for today's constantly changing business world.
In 2007, Bryant University embarked on an intensive data center consolidation process that would enable it to centralize three separate computer rooms into a single data center to maximize cost and energy efficiencies, with a goal of reducing operational expenses by 20 percent.
Within the data center facility, the consolidation added new technologies that helped to boost optimization of resources, lower energy consumption and improve visibility into asset utilization. Partnering with Schneider Electric, these involved integrated modular IT room architecture, including InfraStruxure for high density applications with UPS, in row cooling and IT racks, and the StruxureWare central data center monitoring software platform. Overhead cabling and piping to eliminate the need for a raised floor, a chiller and diesel generator were also installed.
In looking to build more efficient facilities beyond the data center, the first concrete step university management took to construct smart buildings on campus was the installation of an energy efficiency module that would enable the university to monitor energy consumption beyond the data center and throughout the entire campus. The IT department coordinated with University Facilities to implement the company's energy management solutions to more accurately monitor energy consumption, as previous technology was based on analog systems. By capturing more accurate data on energy usage, university management benefited from improved decision-making and planning related to changes or expansions within the campus environment, therefore driving more energy efficiency initiatives throughout the university.
Another strategic initiative the university undertook was the integration of Schneider Electric's Data Center Infrastructure Management (DCIM) solution, an automated solution designed to address the challenges presented by the ongoing new data center consolidation project. This allowed the university to seamlessly provision space and power supply as needed within the data center environment.

posted: 8/27/2012