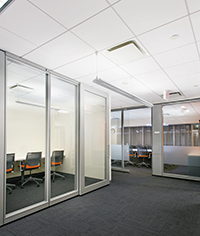 PNC Banks On DC Power For Flexibility, Efficiency
Armstrong World Industries (Ceilings)
In 2002, PNC Financial Services Group became the first major U.S. bank to apply green building practices to all its newly constructed branches. The result: PNC now has more LEED-certified buildings than any other company in the world, according to the company.
Any time PNC constructs a building, it is with an eye on technology that will pay off now and down the road. An example of this is the bank's use of direct current (DC) technologies. PNC was the first company in the country to install the DC FlexZone grid, a ceiling suspension system from Armstrong that can distribute low voltage DC power to electrical devices in a space.
Installed four years ago at PNC Realty Services Group's Pittsburgh offices along with AC-DC power supply modules by Nextek Power Systems, the acoustical ceiling grid is used to power lay-in light fixtures, pendants, and wall washers in a 2,500-square-foot area that houses both open plan and closed spaces.
Available in two grid styles — 9/16 inch Suprafine T-bar and 9/16 inch Silhouette slot reveal — the DC main beams with integrated electrical conductors are designed for use with standard cross tees and conventional suspended ceiling installation practices.
The grid provides "plug and play" capabilities for adding or moving light fixtures without the need to re-wire. One reconfiguration has already occurred in the PNC space, and pendant fixtures were simply snapped into the grid wherever needed.
The grid also enables more efficient use of on-site DC power sources such as solar. To that end, PNC is opening a 4,900-square-foot net zero energy branch in Fort Lauderdale, Fla. in which the electricity required for lighting comes from rooftop photovoltaic panels.
The solar-generated DC energy feeds directly into the power distribution equipment, and then into the grid where it is distributed to DC-driven, recessed LED lighting fixtures.
The system is based on the EMerge Alliance 24 VDC Occupied Space Standard for DC power distribution in building interiors.
posted: 6/3/2013