Sponsored Learning - what is this?

Security Systems, Practices Can Expand Resilience
The role that effective security plays in making a facility resilient might seem obvious when the topic being discussed is the possibility of a terrorist attack. But there are other security issues that, properly handled, can help make a facility more resilient.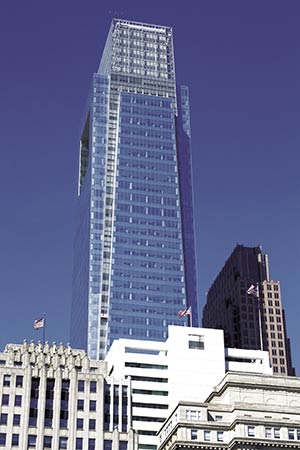 The Comcast Building has a public address system that reaches every spot in the facility and pre-written scripts for situations ranging from fire to active shooters. One of the scripts for the 56-story Philadelphia high-rise even covers earthquakes; it was added after a mild tremor hit the East Coast in 2012.
As far as security is concerned, the first step in making a facility more resilient is a threat assessment. Threat levels to a building can change depending upon the occupants. If an embassy or consulate moves into a building, "now it's a whole different aspect of risk," says Sean Ahrens, global practice leader for security at AON, and it could affect adjacent buildings, too. But adaptations can be made; Ahrens says, for example, that if a cash-for-gold store locates in a mall, management should put the storefront deep inside the building, so that thieves can't immediately bolt to open air.
Resilience is usually taken to mean the capacity of a facility to avoid going down as a result of a disaster. But when it comes to security, a resilient facility is one that prevents problems, not just one that survives if something happens.
"Resilience is being applied to all hazards," says Ahrens.
One example is the risk of workplace violence. "Workplace violence can be so disruptive that people don't want to work there or go to school there," says Randy Atlas, president of Atlas Safety and Security Design.
A proactive organization is more resilient than a reactive organization, says Ahrens. "Thus, an organization that is proactive about workplace violence will be better prepared and more resilient than an organization that reacts to it."
A look at the headlines shows the importance of the broader concept of resilience. "Look at Target," says Atlas. They continue to suffer the impact of information theft that occurred last year. Similarly, he says, Town and Country Mall is still feeling the business effects of shootings that happened eight years ago.
When it comes to resilience, "it's not only the building, but the organization," Ahrens says. In other words, there's a difference between physical security — the doors, windows or other obstacles to entry — and operational security. And operational measures offer the greatest opportunity for improvement, says Ahrens. That can be as simple as reviewing alarms and notifications with building tenants, so that retailers in a mall know when to put down their gates, for instance, or posting evacuation plans in plain language.
Farrell says that, at the Comcast Center, three employees on every floor are trained as "floor captains," with their own bags of disaster supplies, Blackberries, and training in emergency procedures. Drills are held four to six times a year, mandatory for everyone from executives on down.
Resilience may require an investment. It takes more than "the symbolic gesture of a guard and a few cameras," says Atlas. If a building has a guard in the lobby and a swipe-card ID system that workers and guests must use, he says, it can be an effective deterrent if troublemakers know that a record exists of their time in the building.
"Security isn't a cost center," Ahrens says. Executives need to be aware that good security can make big events into small events, and that a high-profile crisis can create liability and harm the organization's brand.
---
Comments
---
What Is Sponsored Learning?
FacilitiesNet sponsored learning allows marketers to connect with our facilities management audience by allowing them to deliver educational content on our FacilitiesNet publishing platform.

Sponsored learning pieces are provided by the marketer.