Sponsored Learning - what is this?

New Perspective on Fire Protection
It's a short step from the concept of fire protection to the idea of resilience. The difference is really one of perspective and expectations. Building codes specify the minimum needed to protect people in a building, not to maximize resilience. If resilience is the goal, facility executives should evaluate fire protection options with that objective in mind, not merely with the idea of meeting codes.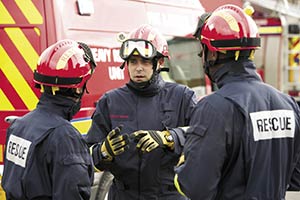 If floor plans, spec sheets, and maintenance records for every part of a building are available electronically and can be shared in advance with firefighters and other first responders, they will be better prepared in the event of an emergency in the building.
That approach starts with the design of a building. Ideally, says Chris Jelenewicz, engineering program manager for the Society of Fire Protection Engineers, architects, fire protection engineers, and facility executives work together to customize a solution for the needs of the building. A hotel might study how a fire in the ballroom might spread, and design passive protections.
Developments in building technology, used in conjunction with fire systems, may offer ways to improve resilience. Building information modeling is one possibility, Jelenewicz says. Aside from mapping features, if spec sheets and maintenance records for every part of a building are available with one click, that information can be shared in advance with firefighters, too, in a more sophisticated version of the building walk-through. "Getting the local fire department involved is always a key," Jelenewicz says.
Brian Jay Meacham, associate professor of fire protection engineering and architectural engineering at Worcester Polytechnic Institute, describes a system like the robots that some hospitals use to deliver food or medicine; in this case, if a fire broke out in one room, a robot might roll out of a closet on that floor to put it out. As a backup to the sprinkler system, a fire-fighting robot is one example of the idea of distribution: "You don't want a single point of failure," says Meacham. For the same reason, tanks of water throughout the building may be a better way to supply the sprinkler system than one pipe.
Sophisticated systems might also help improve the way that people respond to a fire. Today, Jelenewicz says, more attention is being paid to "the behavior of the humans inside." To take one familiar example, if a fire alarm goes off in an office building, most workers are not going to get up and follow the evacuation route to the outdoors. Instead they will look at one another and wonder why the alarm is going off. Everyone has been through false alarms; far fewer people have been inside a burning building.
Similarly, Meacham says, people have learned to ignore exit signs, but an interactive system might use voice or visual cues to direct people out of the building — a feature that might be particularly valuable in a large, complex structure such as a stadium or terminal.
Thinking about fire protection in terms of resilience, rather than just code compliance, represents a sea change in philosophy for most organizations. Indeed, too many organizations resist even efforts to improve codes. Solomon notes that a decade ago, after the Rhode Island nightclub fire that killed 100 people, many other nightclub owners resisted mandatory sprinkler upgrades, arguing that they'd never had a problem. "That means you did a good job of maintenance and upgrades, and it also means you got darn lucky," Solomon said. "It's better to have it and not need it than need it and not have it. The day you do need it, it's worth every penny."
---
Comments
---
What Is Sponsored Learning?
FacilitiesNet sponsored learning allows marketers to connect with our facilities management audience by allowing them to deliver educational content on our FacilitiesNet publishing platform.

Sponsored learning pieces are provided by the marketer.