Sponsored Learning - what is this?

Mass Notification Systems Should Be Tailored
No building system is more closely tied to the idea of resilience than mass notification or emergency communications. The concept of mass notification isn't new; it goes back to town criers and church bells, Solomon points out. But the importance of mass notification has gained widespread acceptance in the nearly two decades since the bombing of Khobar Towers, a U.S. military housing complex in Saudi Arabia. That attack led to the development of ways to notify building occupants about emergencies.
Mass notification is evolving, according to Solomon. Voice systems, for instance, can tell occupants of a high-rise which floors should be evacuated and which should stay put. Reverse 911 dialing or texting can also alert people. A mass notification system should use multiple methods, such as text messages, voice messages to land lines, or even electronic bulletin boards in a lobby.
"People really want information," Jelenewicz says, and in the case of an old-fashioned fire alarm, "a horn on the wall making noise is not information."
Notification channels can even include social media. That is "sometimes good, sometimes bad," Solomon says — the message travels fast and far, but it can't be controlled. A Facebook page that sprang up during the Atlanta snowstorm in January 2014 helped alert drivers to conditions, even down to the location of a truck passing out bottled water. But jokes can be taken seriously, and false information can spread just as quickly as true.
It's important to remember that, as options for mass notification increase, technology choices are only one side of the equation. "Smart thinking about what message is required," says Meacham, "is at least as important as the technology delivering the message." In a complex, fluid situation such as a college campus, if one building has a fire, planners need a way to tell occupants of that building to get out and everyone else on campus to stay away.
Mark Farrell, chief security officer for Comcast, says that the company's 56-story headquarters building in Philadelphia has a public address system that reaches every spot in the building, and pre-written scripts for many different situations, including fires, active shooters, and earthquakes. The last item was a "lesson learned" after a mild East Coast quake in 2012. "We decided that we ought to write a script for that, or for whatever type of emergency is out of the norm," Farrell says.
New Approach to Codes Could Bring More Resilient Buildings
At present, creating a resilient building has little to do with building codes in most areas. Stephen Szoke, director of codes and standards at the Portland Cement Association, says that codes do an excellent job of saving lives because they focus on efficiently evacuating building occupants. But because they do relatively little to preserve the actual building, "property losses are increasing at a staggering rate." Builders who follow the code, he says, are in effect putting up "the worst building that's legally permitted."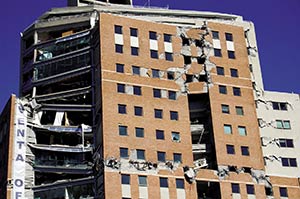 Codes are designed to safeguard people in the event of an emergency, rather than to protect the building itself.
There are exceptions. For example, the National Earthquake Hazards Reduction Program sets high standards in susceptible areas, in part because "earthquakes don't give any notice." In the Southeast, by contrast, everyone gets a day's warning of a hurricane, and then "the building is gone, but no one died, so the intent of the code was satisfied," Szoke says. "It's become part of the problem, our willingness to accept that."
Fortunately, there are signs of change. "There's been a philosophical shift" toward thinking that the building itself should be stronger, says Robert Solomon, division manager at the National Fire Protection Association. "The sooner people can get back to something that looks like normal, whether that's home or work, the faster psychological recovery is going to be and the faster the economy is going to bounce back."
The Federal Emergency Management Agency, or FEMA, has been discussing a Resilience Star program, similar to Energy Star, that would award points or credits for various resilience features. It's an attempt to establish performance that goes above code, using benchmarks for robust design. But "we still have challenges on how to evaluate the tradeoffs," says Roger Grant, program director at the National Institute of Building Sciences. Steel increases durability, because of its strength, but could lose energy, because it conducts heat well. An extra layer of insulation keeps more heat in but also offers more combustible material in a fire.
The Department of Homeland Security is developing a tool to set standards and help facility executives make the necessary tradeoffs; a beta version of the owner project requirements tool is available at Oprtool.org. When it is finished, it will cover options available to enhance safety, security, durability, and operations for both the building envelope and systems, while being energy-efficient, environmentally friendly, and cost-effective.
All new federal buildings will need to meet high-performance criteria by 2030, and Grant expects the standards will ripple into the private sector, too. A DHS program gives facility executives credits for improving resiliency, he says, and protects them from liability.
To some extent, resilience is a matter of pay me now or pay me later. Szoke believes the best long-term solution is to upgrade the building code &mdash as "disposable buildings" are demolished and replaced, much of the nation's stock could be better protected. "We can't afford to do these bailouts" after a disaster, he says. "We're going to pay for it one way or another."
---
Comments
---
What Is Sponsored Learning?
FacilitiesNet sponsored learning allows marketers to connect with our facilities management audience by allowing them to deliver educational content on our FacilitiesNet publishing platform.

Sponsored learning pieces are provided by the marketer.