Sponsored Learning - what is this?

Maintenance Practices Enhance Resilience
A robust system of preventive maintenance can enhance a building's resilience as well as offering cost savings. Good maintenance depends first and foremost on trained staff and solid operating procedures. But sophisticated automation systems also allow facilities to practice predictive maintenance, in which sensors give feedback about parts that are beginning to fail and should be changed.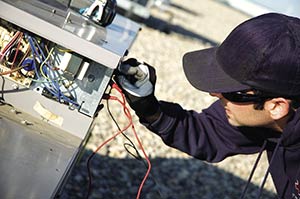 Effective preventive maintenance can make a facility more resilient; predictive maintenance can further reduce problems that can undermine resilience.
Preventive maintenance services items on a schedule or based on human observation; predictive maintenance anticipates problems before they happen. "Once you have a good preventive maintenance program, you can move into predictive maintenance," says Mike Cowley, president of CE Maintenance Solutions.
Too many American facilities "run it until it breaks," says Andrew Gager, principal consultant for Nexus Global Business Solutions. But a program of preventive or predictive maintenance can help equipment last longer with less down time and reduce workers' overtime costs, while making the facility less likely to have problems that reduce resilience. And particularly for resilience purposes, backup systems must be maintained as carefully as the principal systems.
Predictive maintenance systems are already used in critical buildings such as hospitals and data centers, and in military installations. They are working their way into commercial space as costs drop, according to Geoff Irvine, principal of Irvine Consulting.
Cowley gives the example of an Army base that changes air filters based on the temperature of the steam condensate; if it begins to rise, a sensor tells the system to write a work order and send it to maintenance.
Although technology is playing a growing role in maintenance, having the right people is still essential. With a sophisticated BAS, "you're moving into a level of electronics where you need to know how to calibrate that particular sensor," Cowley says. "You need another level of technical capability for doing that," and the current workforce of technicians may need a lot of training.
Conclusion
Resilience is an increasingly important issue for facility executives. But it's important to take a broad look at the topic. While measures to harden the building shell or to install backup power are unquestionably important, facility executives should be aware that other aspects of the building can also contribute to resilience. When it comes to fire protection, building automation, mass notification, security, and maintenance, developments in technology and effective operational practices may present facility executives with opportunities to improve resilience.
---
Comments
---
What Is Sponsored Learning?
FacilitiesNet sponsored learning allows marketers to connect with our facilities management audience by allowing them to deliver educational content on our FacilitiesNet publishing platform.

Sponsored learning pieces are provided by the marketer.