Sponsored Learning - what is this?

Disaster Preparedness: Advanced Building Strategies Make Buildings More Resilient
Executive summary: Buildings have an important role in enabling organizations to sustainably function, thrive, and remain resilient in good times and in bad. Discussions of resilience often revolve around backup power or measures to harden the building. But as resilience becomes a more critical issue, advanced building systems and practices represent overlooked opportunities to enable the facility to remain operational in the event of a disaster.
This research paper will explore the ways that technology and best practices in five areas can enhance resilience. Those areas are the fire protection system, the building automation system, the mass notification system, security, and maintenance.
Topics addressed include:
Opportunities to use the BAS to improve resilience
A security perspective on resilience
The importance of good maintenance in ensuring resilience
Evaluating fire protection options with resilience in mind
Mass notification systems can be tailored for resilience
Understanding Resilience
As planned and unplanned events occur, whether of natural or human origin, resilience is a concept that facility executives must constantly consider. Like sustainability 15 years ago, resilience is an emerging concept that is poised to become part of tomorrow's background reality.
Many discussions of resilience focus on hardening the building's shell and structural systems, or installing backup power. While those areas play important roles in making a building more resilient, they aren't the whole story. Integrating building systems — like the building automation system, the fire system, and the mass notification system — can make important contributions to resilience. So can good practices in areas like security and maintenance.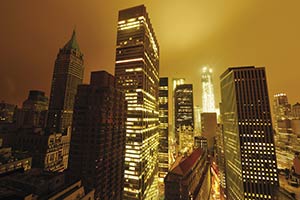 Hurricane Sandy made resilience a high priority for many organizations that had not previously considered it. When the storm hit New York City, it showed the need for new thinking about everything from flood zones to codes to onsite emergency generation. The utility power outage caused by Sandy left some buildings in the dark because they did not have their own backup source of power.
Today, however, the fact is many organizations have failed to take advantage of key smart building opportunities that can not only improve operational efficiency, but also reduce energy costs and buttress sustainability efforts. Many organizations have also failed to link smart building strategies with strategies for energy efficiency and sustainability. But the next few years should see a significant increase in the implementation of important smart building measures.
A formal definition of resilience is "the ability of a building to withstand disaster or extreme weather and remain in operation," says Jason Harper, associate principal, Perkins and Will. In the past, critical facilities such as hospitals and fire stations have paid particular attention to the concept, but today facilities of all types are considering steps to improve resilience.
The concept of resilience "has been around forever," says Robert Solomon, division manager at the National Fire Protection Association, but formal definition began in 2011 as part of a Department of Homeland Security initiative. After Superstorm Sandy in October 2012, "areas that really hadn't thought about it before" were forced to reassess.
Solomon says that, for a building to be resilient, it must have a plan in place, carry it out effectively when the emergency hits, and recover afterward. Too often, Solomon says, "you don't know what to do until the big one hits. Then people say, 'Oh, that's what they were talking about at the workshop.' "
In many cases, resilience is taken to mean having backup systems, distributing vital functions inside or outside the building, and also hardening buildings to withstand crises. What's often missing from those discussions is the role that advanced building systems and good operating practices can play in ensuring resilience.
---
Comments
---
What Is Sponsored Learning?
FacilitiesNet sponsored learning allows marketers to connect with our facilities management audience by allowing them to deliver educational content on our FacilitiesNet publishing platform.

Sponsored learning pieces are provided by the marketer.