4

FM quick reads on accessibility

---
1. Retrofits: Ensuring ADA Compliance
For maintenance and engineering managers overseeing construction and renovation project in institutional and commercial facilities, there are two key steps to take to ensure that the project is fully compliant. The first is to perform a jurisdictional analysis.

Managing projects that result in fully accessible and compliant facilities requires a thorough analysis of the range of accessibility regulations that may be applicable to a specific project. The analysis will help determine, at the early planning stage, how many of what must be accessible. Do all public entrances have to be accessible, 50 percent or just one? This jurisdictional analysis must be done at the beginning of the project and reviewed at key milestones.

The specific questions that should be asked depend in part on the state that the project is in. However, typical key questions include:
Is the facility's owner a government or private entity?
If it is a private entity, does it receive any public financial assistance — not just for the specific building project?
Is the facility open to the general public or used by employees only?
Is the project new construction, an addition or an alteration?
In alteration projects, ask the following: Are "primary function" areas being altered? What is the cost of the planned alterations? For multifamily housing projects, additional questions include: Is the housing being developed by a state or local government agency? How many units? Are the units for rent or sale?
The second step is to knowing the resources.
Having in-house expertise is the easiest source for answering accessibility questions as they arise during projects. Every organization should designate someone to become familiar with the federal laws and regulations as well as the requirements of the states in which the organization has facilities. But the accessibility issues for many projects are not straightforward, and second opinions or interpretations are often warranted.
2

. 4 Steps to Proactive ADA Compliance

ADA accessibility lawsuits filed against businesses and facilities for alleged violations of the Americans with Disabilities Act (ADA) have been growing over the last few years. The best defense against ADA lawsuits is to remove accessibility barriers.

Barriers are aspects of the built environment that lessen access. The removal process starts by assessing what needs to be done and then putting in place plans, procedures and policies to guide implementation. Here are four proactive steps to become an unappealing target:

Know how you're doing. The first step is to understand the basics of the ADA. One of the most important things to understand is that the ADA is a civil rights law, not a building code. Local building code officials do not oversee the enforcement of the ADA. The ADA is enforced when discrimination is alleged through private suit or by certain federal agencies, such as the Department of Justice. So just because plans are approved by building inspectors or other officials does not mean the building will be ADA compliant.

Develop a written implementation plan. The data collected from the audit will then be used to create an access plan to remove barriers within your time frame. That's the good news. Enforcement of the ADA Standards does not insist on complete and immediate compliance. On the other hand, doing nothing or taking half-hearted, slipshod measures are an invitation to lawsuits and substantial penalties, damages, and costs.

Execute against the plan. The Standards require businesses to remove barriers to the extent that it is readily achievable. Many may think the term readily achievable means "to the extent it is convenient for me." This is simply not so. The 1991 ADA Standards for Accessible Design defines readily achievable as, "easily accomplishable and able to be carried out without much difficulty or expense." If it's not readily achievable to immediately remove a barrier, the business must remove barriers to the extent it is readily achievable.

Let the law be your guide. The 2010 ADA Standards for Accessible Design is more than 250 pages, but there are resources to help make use of this extensive document. A couple of good places to start are the United States Access Board website, www.access-board.gov, and the U.S. DOJ ADA website, www.ada.gov. The DOJ also offers a toll-free ADA information line for assistance.
3

. The ABCs of ADA

Every maintenance and engineering manager knows ADA stands for the Americans with Disabilities Act, the civil rights law signed into law in 1990. Some managers know the law provides protection to the nation's largest and fastest-growing minority group— people with disabilities. But many ADA-related terms are less well understood. Here's a mini-dictionary of key ADA issues:

Alterations — Any change made to a facility that affects the function of the element or space. As alterations are designed and constructed, they must meet the new construction requirements of ADA accessibility guidelines (ADAAG).

Barrier-free — Often used to describe an area with no barriers to individuals with physical or sensory disabilities

Disability — A mental or physical impairment that limits major life activities. People with disabilities include someone using a walker and someone who has a visual disability, but also someone with a hidden illness, such as diabetes, emphysema or heart disease.

Good-faith effort — What building owners, managers and all businesses were required to begin making on Jan. 26, 1992. A good-faith effort means taking steps to identify and remove barriers in a facility. It's not too late to start, unless of course a facility has already had a complaint filed against it.

Grandfathering — ADA has no provisions for grandfathering. All buildings, whether new or in existence prior to ADA, must perform readily achievable barrier removal.

Readily achievable — The definition of readily achievable is intentionally vague, as it is viewed on a case-by-case basis, with consideration to structural ability and financial resources. What might not have been affordable in 1992 might be today.

Risk Management — ADA issues have become synonymous with risk management. Grab bars and handrails provide support; smooth sidewalks prevent trips and falls, as do secure carpets and non-skid floor coverings.

TDD/TTY — Telephone Devices for the Deaf. Text telephones that allow individuals with hearing and speech disabilities to communicate using regular voice phones.

UFAS — Uniform Federal Accessibility Standards. The predecessor to ADAAG. The standards were the technical requirements for compliance with the Rehabilitation Act of 1973. Once ADA was signed into law and ADAAG was developed, ADAAG requirements have, for the most part, replaced UFAS standards.

Universal design — The standard all construction should achieve because it meets the needs of everyone, from children to senior citizens.
4

. Using ADA To Evaluate Facilities

Maintenance and engineering managers trying to ensure the accessibility of institutional and commercial facilities must consider the "usual suspects" —restrooms, entrances and interior paths. But they also must assess a host of other items and elements that can affect the use of a facility by an individual with disabilities.

Although alarms fall into this category, post-9/11 emergency preparedness and safety cannot have a higher priority. Audible alarms are only effective for people who can hear. Where audible alarms exist, ADA access guidelines require the installation of visual strobe alarms. This situation is particularly true in restrooms. Managers should take a serious look at their facilities to ensure that visual strobe alarms accompany audible alarms.

Other items of importance include water fountains and coolers, pay phones, cash machines, and vending machines. When negotiating for the lease, purchase or placement of these items, managers must make sure the items themselves meet ADA requirements.

Managers also must review product information carefully. The presence of an ad or cut-sheet with the international symbol of accessibility does not signify the item meets ADA requirements. There is no Underwriters Laboratory for ADA.

Instead, managers need to ask questions, make sure that the vendor answers them, and be confident that the new water fountain or cooler is compliant. Then make sure it is installed in an accessible location. Nothing is worse than a compliant water fountain located at the top of a set of steps.

Ultimately, managers must be vigilant about the accessibility and safety of their facilities. Using the ADA requirements as a template for that process is an excellent way to ensure a facility is safe and user-friendly for people with disabilities, seniors, parents pushing baby strollers, and even aging baby boomers — basically, everyone who visits a building each day.
RELATED CONTENT: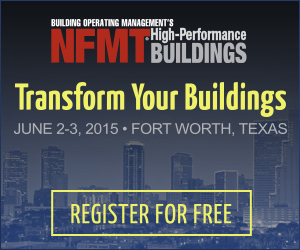 ---
QUICK Sign-up - Membership Includes:
New Content and Magazine Article Updates
Educational Webcast Alerts
Building Products/Technology Notices
Complete Library of Reports, Webcasts, Salary and Exclusive Member Content


All fields are required.


click here for more member info.

---
---
---