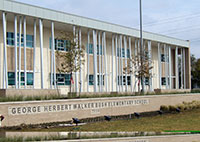 Dallas School System Finds Durability and Good Looks in Bathroom Partitions
Scranton Products
In May 2008, Dallas approved a $1.35 billion bond program to reshape the school district through the completion of 61 separate projects. It has replaced several dated facilities and repurposed numerous others with the latest technologies and sustainable features.
Aimed specifically at overcoming crowding and providing Dallas students with the opportunity to learn in state-of-the art environments, the project entailed the phased launch of 14 new elementary, middle and high schools located in communities across the city, including the new George Herbert Walker Bush Elementary School, which officially opened in Addison, Texas in August 2011.
Designed as an extension of the existing school system and to accommodate an overflow of students from the surrounding area, the 94,000-square-foot Bush Elementary School serves approximately 825 Pre-K through 5th grade students with 35 classrooms, a media center, computer labs, and gymnasium. The school's design focuses on innovation, endurance and aesthetics. All the materials were chosen for their ability to blend into the facility's modern design, while withstanding the daily use of elementary school students.
Among the many products selected specifically to meet these needs was the broad-based installation of bathroom partitions from Scranton Products, in the Hiny Hiders Paisley Color and "EX" texture, which is black bespectacled with white dots and a ridged texture. In addition to their appealing look and feel, the Scranton Products partitions also met numerous other criteria cited by the city for its new school bathrooms. This included absorbing all the forms of punishment that thousands of students, teachers and parents could deliver every day for the foreseeable future. Other benefits include the ability to never rust or delaminate as well as resist dents, scratches, graffiti, corrosion, mildew and moisture. They are also fully power-washable and can be installed in three configurations; floor mounted overhead-braced, ceiling-hung, or floor-to-ceiling.
posted: 7/16/2012